It is not every day that you are able to find a children's storyteller sharing lunch with an aviation services consultant, a pharmaceutical programme manager, and a digital nomad. As it turns out, National Freelancers Day 2019 (NFD) was a buzzing hub for all self-employed professionals.
When you bring a community of such high calibre and committed independent professionals together, you have a day to remember.
Held at Kings Place, NFD was IPSE's eleventh annual flagship event with talks, workshops, a live podcast, drop-in sessions and more. The two keynote speeches from Pip Jamieson, founder of the networking platform The Dots, and Adam Kay, award-winning doctor-turned-author and comedian, were particular highlights of the day.
Pip started the event with a talk about not only why she founded The Dots – on her houseboat – but the importance of networking and collaborating. Adam closed the day with a stand-up routine, which included a few highlights from his book This is Going to Hurt: Secret Diaries of a Junior Doctor.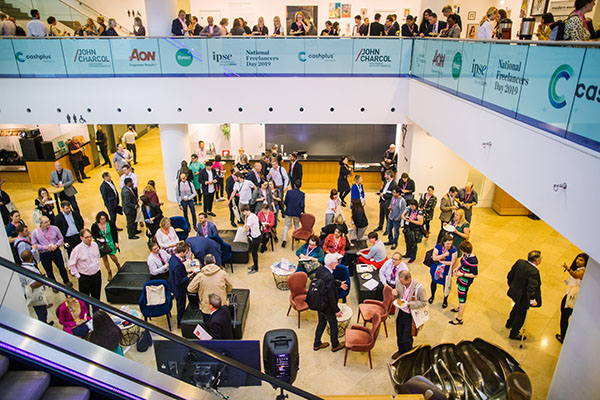 This year, IPSE introduced an Event App by Socio to help guests curate their agenda and connect with participants before the big day. Clara Emanuel and Pauline Brookes, sisters and founders of The Moderna, a network of female digital nomads gushed about this new feature. They were excited to explore the day with an "accessible" and "intuitive" guide right at their fingertips. 
New to Freelancing finalist, Sean Muntaner, even stopped by to let us know how he managed to hold an impromptu meeting with a lead he had been wanting to connect with, due to the networking section of the Event App. As an industrial graphic designer, he shared how useful having such a varied audience as the one at IPSE's NFD can be in bumping into just the right people.
Carl Reader, a business expert who explored the value of personal brand over a business, also returned to NFD. His 'Building Brand YOU' workshop was more popular than ever, with many attendees describing it as useful and engaging.
Carl tweeted afterwards: "From my perspective, it's one of the best organised conferences out there."
Attendee Sophie West, of 'Start up with Sophie', pointed out that she was not only able to meet social media connections, but also make new valuable contacts. She described NFD as a "great day" with a "collaborative atmosphere".
Loved the atmosphere - so welcoming and friendly. It was tough choosing which talk to attend. I'd have loved to be in 3 places at once!

— 💕Kate Taylor (@LoveKateTaylor) June 20, 2019
Others described the day as "welcoming and friendly" and found it tough choosing which talks to attend as they were spoilt for choice.
Sister Song director, Hela Wozniak-Kay, made full use of the event app. She said she reached out to participants and invited them to a pre-session introduction. She made the #nutellamoment possible in her 'Lone nut to Nutella: A Guide to Collaborative Working', where solopreneurs joined forces to create new work.
It was a day of celebration of all things freelance.