On his flight home from the 1989 Miami World Championships for Disabled Youth, with three gold medals in hand, Mark Williams decided to retire from competitive swimming.
Following this decision, Mark entered corporate life, first working for French plant and animal food agribusiness, Groupe Roullier, for seven years. He then moved to Ecolab, where he worked for over 20 years managing sales teams across northern Europe, handling acquisitions and, latterly, managing their corporate accounts for Europe, Africa and the Middle East.
But just over a year ago, there was yet another drastic shift in Mark's career when he joined the ranks of the 4.8 million self-employed people in the UK by setting up his company Limb-art in March 2018.
Limb-art Ltd design and manufacture the "world's coolest" and most robust prosthetic leg covers, Mark tells me, with exports now to Ireland, Holland, the Czech Republic, the Canary Islands, Poland and the USA.
The idea for these colourful, confidence-inducing covers was born out of Mark's desire to solve an issue he had been experiencing for nearly his entire life: trousers flapping around his prosthetic leg.
In 1982, at the age of 10, Mark was riding his bicycle home from school in north Wales when a car ran into him. He was rushed to hospital where his parents met the surgeon who gave them some news – both good and bad.
"The good news was Princess Diana had had a baby boy [Prince William] and the bad news was they could not save my leg," recounts Mark. "Little did I know this would be the best day of my life!"
His biggest challenge was of course, learning to walk again, but as a determined 10-year-old, he managed it in just eight weeks. During that time, he met with the head coach of the Rhyl swimming club.
"He said I looked like a natural swimmer and, after some months of training, the coach, Mick [Mike Jones], asked the British Sports Association for the Disabled (BSAD) [now Activity Alliance] for the qualifying times for the British championships, so I could enter.
"They sent the times and after one year I had managed to beat two of the times only to find out that they hadn't sent the qualifying times but instead the current GB records, which I had broken in training."
Mark went on to compete on a global stage, winning multiple medals in the 1988 Seoul Paralympics.
"It is an indescribable feeling. The best way to describe how I felt is pride when you stand on the podium and receive your medal," he explains.
Now, Mark has turned to self-employment to develop a new source of pride: raising the confidence and self-esteem of fellow prosthetic users.
"The covers have been received fantastically by amputees, with many thanking us for selling one to them. Not only does the cover make the amputee's leg look cool, it massively improves the amputee's confidence to walk into a room and #StandOutStandProud."
Mark's passion for his business has led to multiple awards. His proudest achievement, he says, is winning the 2018 Stelios Entrepreneur of the Year Award, which showcases the unique talents and business skills in the disabled community.
Turning to self-employment
By striking out on his own, Mark has joined the roughly 611,000 disabled people in self-employment (who make up 14 per cent of the self-employed workforce, according to a recent report by The Association of Independent Professionals and the Self-Employed (IPSE) and Community). The report, Making self-employment work for disabled people, shows that in the last five years, the number of self-employed disabled people has risen by 30 per cent.
The report sets out recommendations for government, the private sector and support organisations to help disabled people in, or considering self-employment, succeed in working for themselves.
The report also analyses the motivations for becoming self-employed, looking particularly at whether people felt they were pushed into it or chose to work this way.
For Mark, this was about, having "control of my own destiny. All successes and failures are my responsibility".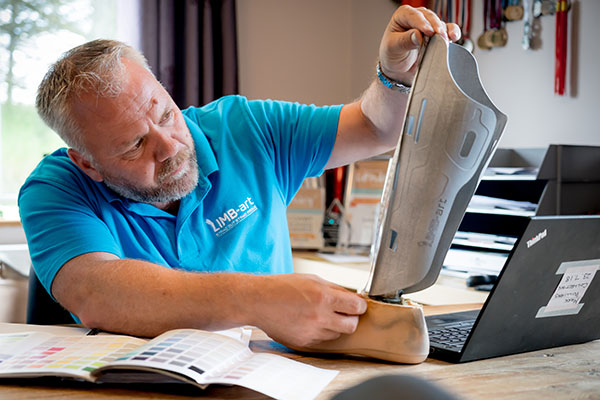 It's not just Mark who chose self-employment rather than being pushed into it. According to the study, a large proportion of the disabled self-employed community see greater control over work as an important factor for choosing to work for themselves – similar to the wider freelancing population.
The most common reason is better work conditions or job satisfaction, which was picked by over a fifth (21%) of all respondents. Additionally, like Mark, many disabled people feel that self-employment offered them an opportunity to pursue a personal passion or skill. They also see it as a path to get greater fulfilment from their job, giving them a personal sense of pride.
Mark arguably, is also similar to the 19 per cent in the report who say they chose self-employment because of the nature of their job or career.
When asked why there wasn't something like Limb-art that already existed, he explains: "One of the main reasons almost nobody has thought of the idea is that you have to be an amputee to experience the problem (so only a small percentage of the population).
"Then you need to be an entrepreneur, which is also a small percentage of people. So, you're looking at a small percentage of an even smaller percentage."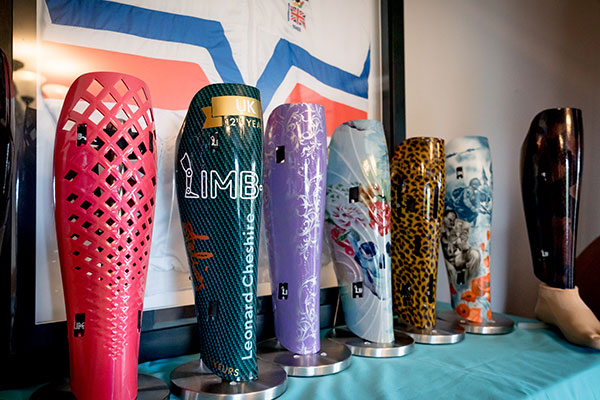 But as emphasised in IPSE and Community's study, not every disabled person finds themselves in the same position as Mark. According to the report, many of the factors that push disabled people into self-employment related to negative experiences of being disabled in full-time employment.
For example, the report noted that "a lack of understanding in the workplace around a person's condition or impairment including from colleagues and employers", among other reasons often mean disabled people do not feel employment is a suitable option.
However, regardless of whether they were pushed into it or chose self-employment, the report shows that many reflected on how being their own boss had a positive impact on their lifestyle and helped them to accommodate their condition or impairment.
Mark's advice for anyone considering self-employment is simple: "Make sure what you are about to do is enjoyable. There will be some great times and some low times, so if you don't enjoy it you will not make it through the low times.
"Don't be afraid, take chances, fail from time to time… if you're not getting failures, you're not trying hard enough."