Technology is a good thing for freelancers. Or is it?
I joined a panel debate at IPSE's National Freelancers Day (NFD) event in London last week, and it seems tech could be both a blessing and a curse to the freelance community – and we only have ourselves to blame if things go horribly wrong.
But first, let's focus on the positives. Technology is a great enabler for freelancers. It helps us win contracts, connect with clients and work remotely. However, it's also a complex issue and – given the ubiquitous nature of technology today – one that crosses over into many different areas of freelancing.
The debate tackled many technologies popular with freelancers – including online platforms that help us find work. The panel agreed that while some offerings are incredibly useful and take an innovative approach (like The Dots – a creative network Pip Jamieson covered in her keynote talk at NFD), others could devalue the freelancer market as geographical boundaries erode, leaving pitches vulnerable to being undercut and judged solely on a proposed rate rather than the skill set of the individual. 
Tools like Skype and Zoom were also in the firing line. While they are an effective means for freelancers to communicate and work remotely, are they also making freelancers lazy to the point where we'll opt to meet via a screen instead of face to face? And is this attitude costing us work?
Then, we have emerging technologies like virtual reality, that one day could provide us with workspaces where we strap on a headset to connect in a digital room full of avatars. While some of the panel thought this was a step too far, others saw this as a fascinating opportunity to connect in a more immersive and interactive way.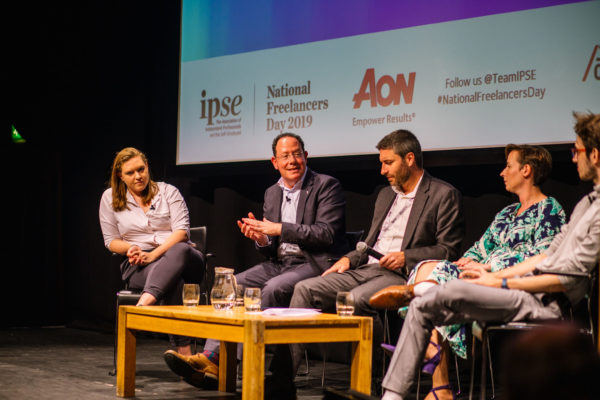 VR wasn't the only future technology up for discussion with Artificial Intelligence (AI) also dividing the panel.
On the one hand, we noted that AI could cripple freelancing in specific industries – such as transport where 50% of existing jobs are predicted to be at risk by the mid-2030s.
But, on the other hand, AI could help us increasingly automate those dull tasks we'd rather not waste our time on. Imagine if a bot could seamlessly organise your inbox or answer your phone for you. Would you let it? And would you trust it?
This led to a discussion about the ethics of AI with many of the panel concerned about the implications in everything from data security to mind control – after all, if Facebook has algorithms in place to tailor its advertising to match your interests, could it also sway you on how to vote?
Obviously, this is a highly contentious and complex issue – and sadly one the panel couldn't resolve in our 45-minute session.
Tech needs to be diverse and adaptive
But we did seem to agree that there's an inherent need for more diversity in tech to make sure one demographic isn't responsible for the increasingly difficult decisions machine learning systems will make.
Furthermore (and as someone who sat firmly on the 'pro tech' side of the debate), I argued that technology actually provides a brilliant opportunity to freelancers in the form of the growing digital skills gap. This gap isn't just prevalent in AI but across multiple areas – giving freelancers the perfect opportunity to reskill and work in the tech industry.
But as AI and other technologies become more prevalent – and maybe threaten the freelancer way of life – there is one thing to remember. Freelancers are a creative and flexible bunch and one that's adept at adapting to any changes thrown our way. If any section of the workforce is going to survive a tech revolution – I'd bet on the freelance community.
That's not all. We have to remember that humans are the ones who make technology. So, it's our responsibility to understand our own humanity and build this into the machines that may ultimately run our lives and freelancing careers.
If we can't embrace technology and fail to understand the challenges and opportunities ahead – we only have ourselves to blame.
IPSE's deputy director of policy and external affairs, Andy Chamberlain, chaired the debate where Gemma was joined by fellow science and tech writer Gemma Milne, tech innovator Liam Charmer and Professor of psychology and managing director at i2 media research, Jonathan Freeman.