If you imagined a co-working space, you would be forgiven for picturing openplan areas of red brick, exposed chrome ducting and upcycled furniture, inhabited by plaid-clad millennials hunched over Mac- Books and drawing boards.
But in The Bloomsbury Club, in the heart of central London, is The Coral Room – an eye-catching cocktail bar that is aiming to exploit a niche in the market and bring a touch of class to the traditional notion of shared office space.
In what is a burgeoning and fiercely competitive self-employed market, getting a lead on your competitors can make all the difference. So, what better way to impress a client or win a pitch than taking them to one of the capital's most exclusive co-working-friendly venues?
"The Coral Room is unique because of the sense of luxury we provide. Our high levels of service would certainly be one of our unique selling points compared with the traditional co-working space model," sales and marketing manager Joshua Craddock tells Freelance Corner in the art deco-inspired bar. 
"The Coral Room is already frequently used by freelance workers, entrepreneurs and local businesses for small meetings already. It's a market we're actively targeting and currently we have about 100 visitors every day who use our venue for various work-related purposes.
"During the day, the space is largely used by local businesspeople; then in the evening, with a slick cocktail bar, the world's most extensive English sparkling wine offering and occasional live music sets, The Coral Room comes into its own.
"The interior design is world-class, the environment is impressive, and the location is easily accessible, which makes it a great place to impress or win clients.
"We're trying to do something different and the venue is perfectly conducive to a work/ play daytime/night-time dynamic. You don't have to be a member; you can just come in, and we find that openness brings us a lot of success.
"This is definitely an audience we are keen to continue to attract and, whilst the bar isn't anti-suits like some other venues, everyone is welcome to enjoy our luxury setting and five-star service."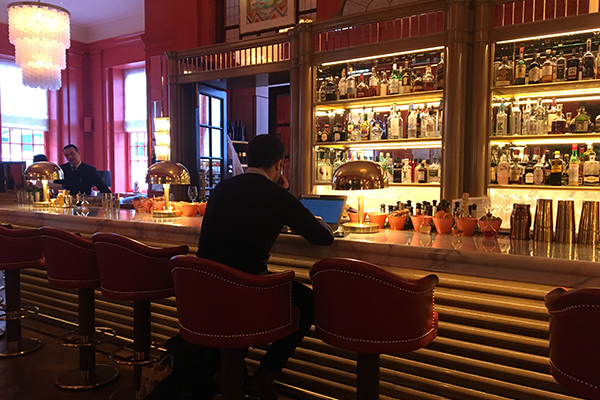 Designed by the Martin Brudnizki Design Studio – the inspiration behind The Beekman Hotel in New York and Scarfes Bar in London – the venue is striking, with sleek furniture and impressive chandeliers dominating a room of coral walls and polished parquet flooring.
Despite its grandeur, The Coral Room places emphasis on supporting local entrepreneurs and last year commissioned local artist Luke Edward Hall to produce a series of works that add a homely feel.
"The space is unique and exclusive, yet sociable. There is an abundance of power sockets, complimentary Wi-fi, attentive service and plenty of luxury desk space," Craddock continues.
The venue has only been operating since November and due to its unique model, is operating a trial and error approach which has, thus far, seen its audience and reach increase at a rapid rate.
At present, this space is used solely for work, but as The Coral Room identifies its users and their needs, they are keen to host events and become involved in the wider self-employed community.
"Having opened in November 2017 we're new, so it's hard to identify challenges at this stage, but we will officially launch into the London scene in April, which is really exciting."
It was recently described by The Telegraph (Luxury) as "an impressive, genuinely beautiful room, that is simultaneously reminiscent of 1920s decadence and Miami art deco".
 
But as has been The Coral Room's mantra since its inception: "Come and see for yourself."