The number of parents who freelance is on the rise- as freelancing allows for flexible working and more time spent with children. However, boundaries can be blurred and many parents who freelance complain of a lack of routine. Third Door is a co-working space in London with a nursery facility, allowing parents the ultimate flexibility.
Aside from the locked doors and low murmur of tiny voices, on first impressions, Third Door could be your average co-working space nestled in a quiet spot in Wandsworth, right by the river's edge. The locked doors, however, are merely in place due to the Ofsted-registered nursery being run on the main floor, with its sister co-working hub up a flight of stairs.
Third Door Co-working and Nursery has taken on the impressive task of combining work and family life, while also providing a clear boundary between the two, all within one building. The entrance is inviting to both children and adults, complete with a warm reception, faux grass rug, and of course, a place to park the buggies.
With self-employment and remote working on the rise and no shortage of new parents, it's surprising to consider that there aren't more flexible options when it comes to balancing kids and careers.
Co-working parents are on the rise
For any parent who has adjusted their hours to meet the nursery drop-off times just to have to complete their commute to work in the opposite direction, the idea of having this all under one roof seems like the ultimate no-brainer.
However, when Third Door first opened eight-and-a-half years ago, "no one knew what co-working was," says Shazia Mustafa, managing director of the space.
"For the first couple of years, we were trying to educate people on what co-working is and why it's good to work near your child."
As a mother of three, Shazia is no stranger to juggling work and small children. Previously, as a brand research manager at Nokia, she faced the same difficulties many parents do when returning to work after their first child.
Faced with inflexible childcare solutions and a drive to start her own business, Shazia and her husband Yusuf opened Third Door in May 2010, with a two-year-old daughter and six-month-old son in tow. Together, they created a community for their members to focus on their work upstairs while their little ones (aged 0–5) are being cared for in the nursery below.
Third Door is not trying to be one of the trendy office spaces that have been popping up around the country. The co-working space is small, simple and bright, helping to foster Shazia's emphasis on community. The space finds its character in the member-made artwork hanging from the walls, and two bright blue and green telephone boxes, soundproofed for private phone calls or just a quiet place to sit.
The large meeting room available for hire by the hour or day was buzzing with activity, which, surprisingly, was a stark contrast to the relatively quiet nursery, as most of the children were out with one of the coaches to play some tennis at Wandsworth Park just down the road.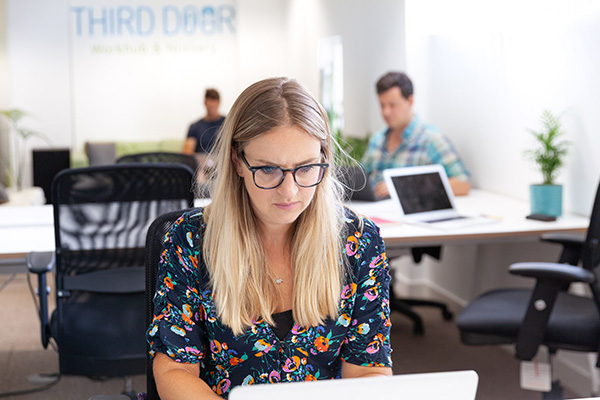 The nursery itself is a charming and open space, yet it isn't filled with the brightly coloured plastic toys one might expect. This is because Third Door wants to be a sustainable business with environmental policies.
"We've gotten rid of as much plastic as possible and gone with more natural resources now instead," Shazia tells me. "I don't know what we're going to do about nappies, but that's the next thing I'm looking at."
Nappy complications aside, there is a clear drive from Shazia to uphold the core values of Third Door, which include respect, curiosity and confidence.
She says one of her biggest successes for making this work has been nurturing "a really lovely team who get what we're trying to do".
She adds: "Their development and the fact that they enjoy coming to work means that they're happy, the children are happy and the parents are happy. That's where it starts – with the people."
With freelancers in mind, Third Door has created an offering to match the flexibility of their chosen way of working.
"We've created our own software to enable that flexibility," Shazia explains, "the parents can book as little as two hours a day to full-time childcare."
They have also adapted their invoicing to work best for the self-employed, by making it easy to offset the cost of the workhub as a business expense.
Third Door offers both flexible or fixed packages, which can be dialled up and down based on the member's specific needs. The nursery and co-working packages include a desk space for use by either parent while their child is in the nursery (as well as when they aren't) and start at £345 per month.
It is worth noting, however, that Third Door isn't limited to parents. Their members consist of mums and dads, people with older children, and some people with no children at all. They also come from a range of backgrounds, from nutritionists to actors and actresses to IT professionals and much more in between. For those looking to use the workhub only, the rate starts at £65 for 25 hours per month.
The next step for Third Door? Expansion. "It's all going to grow," says Shazia, "the main thing for me is that it's important that people question 'Why is family separated from work?'"