As any self-employed person knows, managing our money when we're flying solo – anticipating peaks and troughs in cash flow, preparing for tax time, saving for retirement and so on – can be a tricky business.
But could that soon change? New technologies are transforming the world of finance, and they're helping the smallest businesses spend less time on admin, worry less about getting paid, and keep more of what we earn. Here are some of the most promising.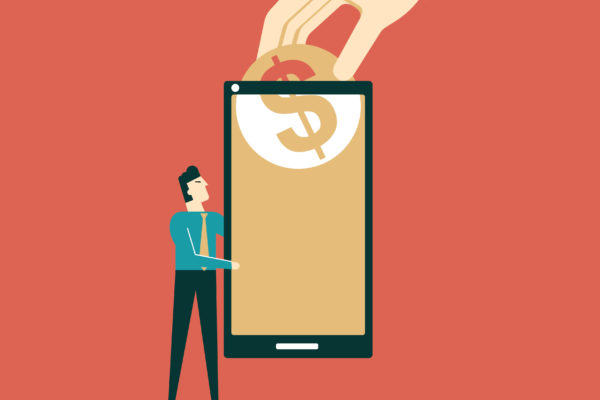 Monzo, the digital banking start-up that's winning thousands of customers a month from its high-street rivals, has launched an online-only account for small businesses. Monzo is perhaps unique in that everything it does is designed first and foremost with the customer in mind; after intensive user research sessions, the company is developing dozens of clever new features to make our lives as microbusinesses easier.
Its app and web-based business account will allow you to request and receive payments by simply sending a link, get help with your taxes and organise your expenses instantly. And in the future, you'll also be able to give your account real-time, read-only access, move expenses paid from your personal account to your business account and vice versa, forecast cash flow, integrate your account with QuickBooks, and much more.
According to Jordan Shwide, business banking lead at Monzo, the company is "simplifying banking for small business owners. They're now able to manage their finances in their own time and on the go."
He says: "We noticed a lot of small businesses had a second bank account to save for taxes, and complained that they would always forget to save. So we created automated tax pots, to allow our users to automatically set aside a percentage of their income into a tax 'pot' for later.
"Whether you're freelancing on the side, running a small agency, or even managing a shop, your needs are quite different. But beyond that, your needs also depend on where you are in your journey. When you're just starting out, you might need help with the basics and opening an account.
"When you're growing, you might want insights to help you grow. And we're hoping to be able to cater to your unique needs at each stage of your business."
Tech company Stripe's stated mission is to "increase the GDP of the internet". It's doing that with a vast suite of SaaS (software as a service) products that help web-based businesses large and small to process and receive payments on time and in full.
The most useful for microbusinesses is its tool for automated billing and subscription management; you can design and test different pricing models, accept new forms of payment, manage your invoices and view detailed financial reports quickly, easily and in one place.
The platform can also automatically test and update card details, send payment reminders and use machine learning from Stripe's own user data to retry failed payments at the most likely time to be successful. Stripe's own data suggests
Tutor House, a company that connects freelance school tutors with students, has used Stripe to scale the business from a one-man band at its founding by a former teacher in 2012 to an eight-person team today.
"Stripe has powerful features that mean that we can provide our customers with a hassle-free method of paying their [freelance] tutors, without having to leave the website," says technical product manager Luke Hawkins.
"For our tutors, we can link their personal accounts to automate regular payments following lesson bookings. Without the ability to automate payments to our tutors, we would likely spend a large chunk of our time processing these payments manually. This would also mean that people wouldn't get paid as regularly as we are able to do."
Blockchain-enabled smart contracts
This one is for the techiest freelancers: digital contracts, consisting of computer code, that can check whether the terms of an agreement have been met and automatically execute a payment in cryptocurrency. Because the code lives on a public, permission-less blockchain (a ledger of transactions shared between a network of computers), it's not controlled by a single entity, like a bank. For freelancers, smart contracts could hold real potential to guarantee remittance for work completed successfully.
The technology is, however, still a long way from perfect; both parties need to understand what may be some seriously complex code, and there's no room for nuance on whether the precise terms of the contract have been met.
Borderless, multi-currency business accounts
Fintech 'unicorn' TransferWise made its name by devising a much cheaper, quicker way to send and receive international payments than using a high street bank. Now, it's offering the perfect payment solution for freelancers with overseas clients: an account capable of receiving more than 40 currencies, almost for free and on the same day.
Essentially, it gives you a local bank account number in whatever country you may need it. So if, for example, you were working with a US company paying in dollars, you wouldn't have to wait two to five working days for an international wire transfer then accept your bank's rip-off conversion rate; the client simply makes a domestic transfer to your TransferWise USD account, it clears within an hour or two, and you can then move it into your TransferWise GBP account instantaneously with the actual, mid-market exchange rate.
The more itinerant freelancers among us may also enjoy the financial security of keeping money in currencies other than sterling. If, for example, you're working with a German client and soon to take a holiday in Spain, you can be paid in euros, keep that money in euros, and not need to worry about Brexit-related currency fluctuations.
Set-up is impressively quick; it took this writer less than five minutes to apply, with a 24-hour wait for background checks to be completed. A TransferWise business debit card, on which you can use any of the currencies you've received, arrived a day later.