Freelance Corner's editor, Jessica Hayden, reviews Thrive, the NHS-approved app for mental health support.
I have been using Thrive for a month or so now. It was recommended to me by my doctor after I suffered from migraines as a result of stress. In all honesty, I felt a tad hard-done-by. An app? I wanted some hardcore migraine relief pills and some sunglasses to wear in the office.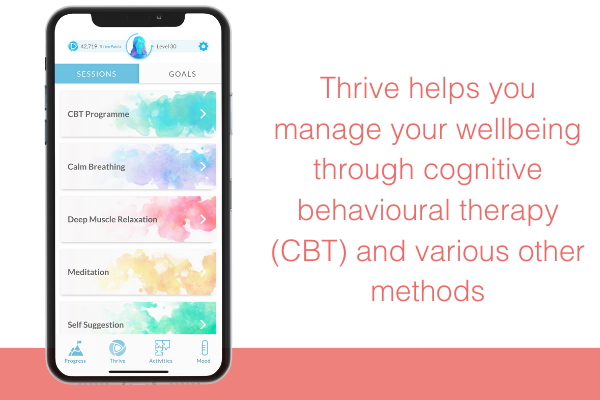 This is more than just a mindfulness app, though. Thrive is as close to therapy as you can get in isolation, other than watching dog videos online. You need a code to be able to access the app, usually provided by your employer, but fear not freelancers, as you can obtain a free access code here.
Simply, Thrive helps you manage your wellbeing through cognitive behavioural therapy (CBT) and various other methods. First, you fill out a three-minute assessment which allows the app to personalise your goals and the methods you should use. Then, each time you log in, it gives you three activities to complete, to help you meet your goals.
Goals and tracking your wellbeing
If you usually have counselling and it has now been cancelled, or you are just having a hard time at the moment – give Thrive a go.
Freelance Corner is not working with Thrive or any association linked with Thrive. The opinions of this piece are solely those of the author. This is not a substitute for professional help. If you are struggling with your mental health, please consult your doctor.