How to become a freelance… is a series of short interviews with freelancers from a range of careers, explaining what freelance life is like for them. 
This week, industrial designer Sean Muntaner explains what freelance life is like for him.
1. What does your freelance role entail?
As an industrial designer, my main role is to design and develop products that can be manufactured and sold commercially. Being a senior designer also means that the briefs get bigger. As well as coming up with individual product ideas, I am also tasked with delivering several products as a range. Some examples include a collection of pet, garden and Christmas gift products for M&S, to a range of stationery products for Universal's latest film releases.    
With additional experience working as a graphic designer, it means I can use both skills to deliver an all-round service that would normally require multiple people to deliver. This means that I can come up with a commercial product, brand it, package it and visually promote it. It certainly makes each day different, that's for sure.
2. What does an average day of work look like for you?
This is a tough one, as it's rare to structure each day the same (especially in the current climate). If I have a client booked in, then an average day would consist of getting my head down and conceptualising products, either through sketches, 3D renders or digital illustrations, all fuelled by coffee and Jaffa Cakes (other cakes are available, although not as good).
If I don't have a client booked in, then I would most likely start the day catching up on emails and finding new work, followed by continuing a self-initiated project or creating new marketing material to promote myself. I always try to keep myself busy in a constructive way, as I've learnt that you've got to be persistent and patient in this game.
3. What qualifications did you need to become an industrial designer?
In order to get my first job as a junior, I needed a degree in industrial design (sometimes also referred to as product design). As industrial design mixes art and engineering, it's important to learn about design theory, product semantics, problem solving and the technical side of manufacturing (among many other things) before you even start designing a product. Therefore a qualification like a degree is important.
4. Where do you find work?
After applying here, there, and everywhere when I first started freelancing, I have found that work has come mostly from my network (old colleagues, friends, family and even suppliers/partners that I used to work with when I was employed), as well as recruiters and job sites.
As industrial design projects are quite long (one in particular has been going on for the last three years!), it's important to keep servicing my clients to a high quality so they come back and I reduce the amount of time looking for new work.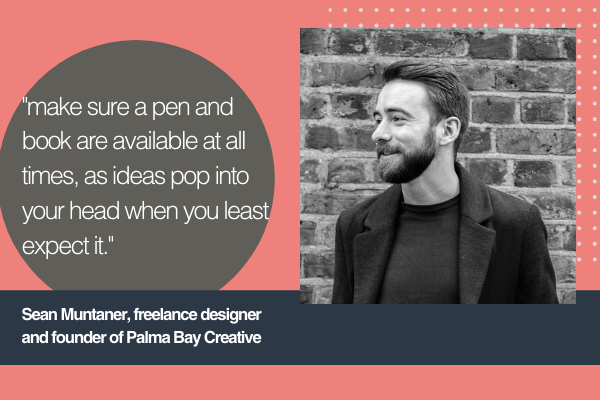 5. What advice would you give to someone who wants to become an industrial designer?
Question everything. While studying the subject and getting the right qualifications is one thing, always be curious and ask why things are designed the way they are and how you could improve them. This could be the chair you're sitting in, the mug you're holding, or even the toothbrush you use.
I would also make sure a pen and book (or mobile and note-taking app) are available at all times, as good ideas sometimes pop into your head when you least expect it. It's a horrible feeling when you think of a good idea and you forget it! There are so many other things I want to say but I think we would be here all day.
6. What is the best thing about being freelance?
I don't really want to glorify freelance life as everyone has such a different experience of it. But it has been a significant step in my career and life in general. It's been harder than full-time work in some ways, but has been so much better in other ways.
I'm someone that just wants to get stuff done with the right balance of efficiency and quality, so anything that I feel is wasting time is a big bug bear of mine, such as general office politics, old ways of working and endless meetings. As a freelancer I'm now a business of one and can therefore decide the direction I want to go in, the clients I want to work with, the rates I want to charge and the hours I want to work.
I'm also very interested in business and even enjoy the parts that most people find boring, such as business admin and business development. This means that every part of freelancing I enjoy, which makes the difficult times a bit more manageable and my lifestyle choices a bit more flexible.
7. Did you make any mistakes when starting out that you would now approach differently?
There is so much I would say, but in a nutshell: I wasn't patient enough at the start.
I wasted my time on a lot of things that weren't effective enough, such as trying to find all my work on freelance marketplaces instead of developing my network and meeting as many people as possible in the industry. I also got complacent when things went well and thought having one big client was enough. As you have probably predicted, this becomes a problem once the client doesn't need any more work and you have no other clients to continue with.
Read more about Sean's work and get in touch with him via his website.