What could bring an MP, an Uber driver and the creative director of a craft brewery together? How about a stand-up comedian, a Guardian columnist and an Olympic badminton star? You know the answer.
That's right: on 28 June one of the UK's most eclectic, vibrant festivals was back: National Freelancers Day. Held at Kings Place in central London, it was IPSE's tenth celebration of all things freelance. Then in the evening it was followed by the fifth-ever Freelancer of the Year Awards, honouring and celebrating talented freelancers and those who support the self-employed community.
An Olympic opening
So, what does a day celebrating the UK's 4.8 million self-employed people actually look like? Well, it kicked off on a high: first, with an introduction from IPSE's CEO Chris Bryce, who laid out what everyone could look forward to throughout the day.
Then it was on to the first keynote speech of the day, from Olympic badminton medallist Gail Emms. Not only a world-class athlete, but also a formidable advocate of freelancing, she took the rapt audience on a journey from the first time she held a badminton racket, through early setbacks, Olympic triumphs and the trials and tribulations of an athletic career in the full glare of the public eye.
And the lesson of it all? Whether you're an Olympic badminton player or a struggling freelance graphic designer, remember the people close to you. It's that support network and that alone that will get you through the lows of freelancing – and be there to enjoy the highs.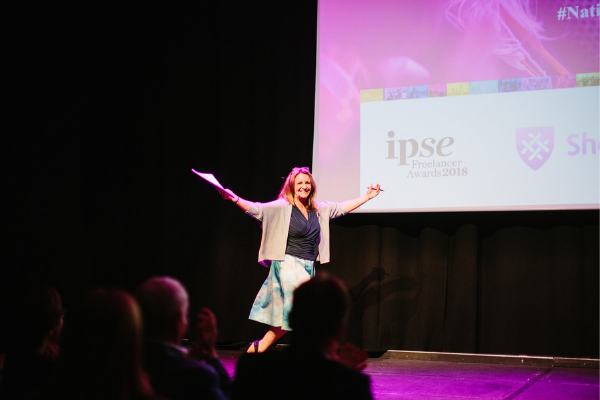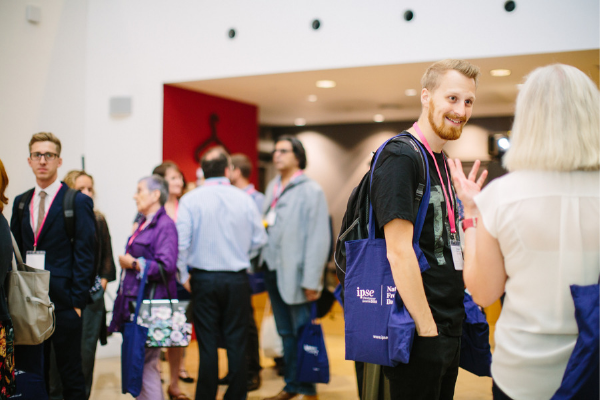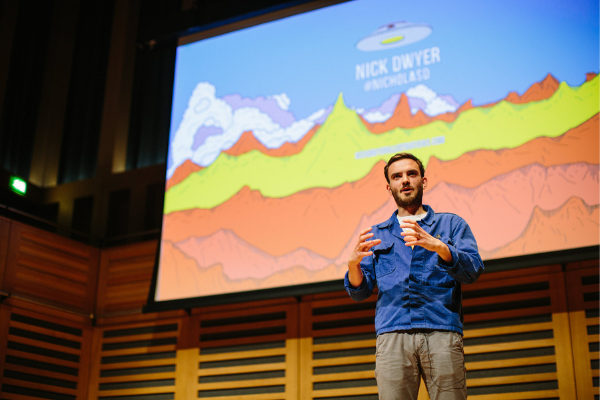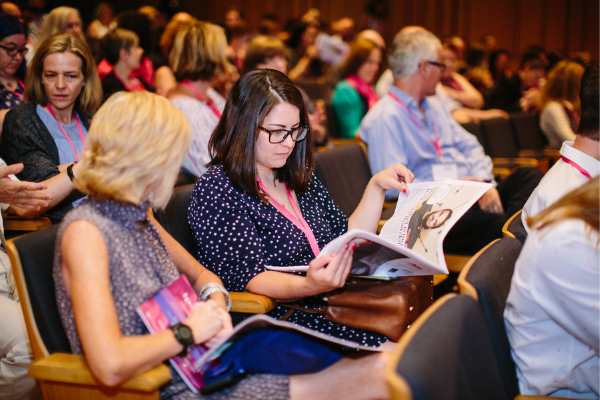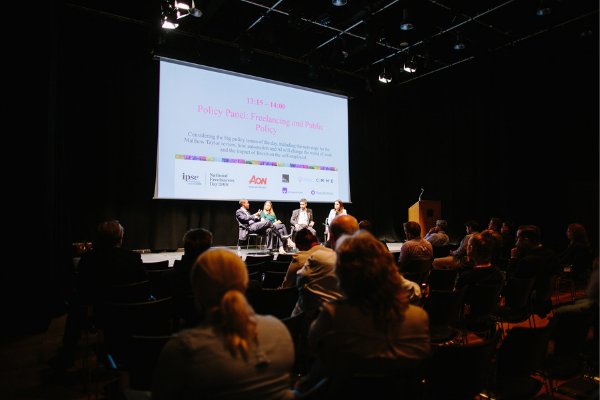 Breaking out
Duly inspired, the audience left Kings Place's main auditorium for an enormous spread of breakout sessions. Through
panel discussions, workshops and motivational speeches, the morning and
afternoon's events covered everything from developing a personal brand and
making the most of social media, to mental wellbeing and the lay of the
political landscape for freelancers.
Among the speakers were Bim Afolami MP, renowned freelance vlogger and writer Steve Folland, Guardian business-to-business editor Claire Burke, author Luan Wise and founder and director of Sister Snog, the inimitable Hela Wozniak-Kay.
Mind over matter
After a host of insightful talks on subjects from right across the world of freelancing, it was time for the closing keynote of the day. Titled 'Why mindset is more important than skillset', Nick Dwyer, creative director of Beavertown Brewery, talked about his inspirational journey from bit-jobs after uni to creative director and the mind-frame you need to succeed. How thinking the right way about your value and your work will take you further than your skillset.
Speaking afterwards, he said there were two things he hoped people would take from the talk: "First, until somebody else tells you that you're done it's good not to think that you're
done.
"Second, make sure you don't get
locked into something that you're not 100 per cent onboard with. Don't get
yourself to a point where you're so tied to something that you can't do
everything you want to. You should be spreading yourself around a bit,
especially at the beginning."
Glitz and glamour
The day may have ended with Nick Dwyer, but there was still the bright lights of the evening's award ceremony to come. The Freelancer of the Year Awards, now in their fifth year, were created to celebrate the very best of the UK's freelancers – as well as the co-working spaces, universities and other individuals and organisations from across the country who support them.
The evening was hosted by the irrepressible comedian Lucy Porter, who sent the audience roaring and rolling off their chairs with her stand-up routine. Then it was onto the altogether more serious business of presenting the awards.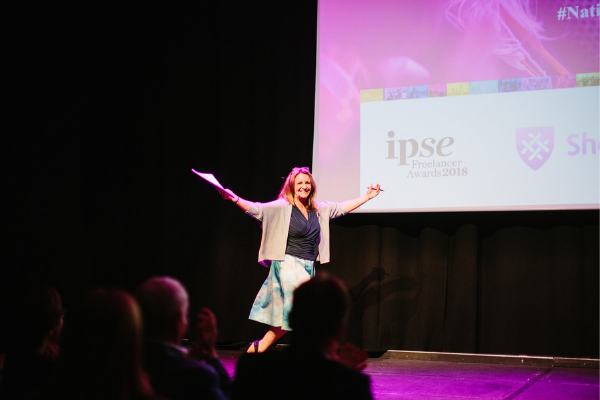 Nottingham Trent University was crowned the university of the year for their continued work on increasing the visibility of freelancing as a viable and positive career choice for students. The School of Art and Design has also improved engagement with employers to offer freelance opportunities to students
With stunning facilities, as well as comprehensive business and a buzzing community saw Avenue HQ in Liverpool took home the Co-working Space of Year Award.
Faye Dicker, founder of networking group Freelance Mum, won the Ambassador of the Year Award for her events and endless support for freelance mothers across the UK.
Individual award winners
Harvey Morton, who won the Young Freelancer of the Year award, was "completely lost for words". He said: "I never expected to win – certainly not in such a strong category."
Chris Pipe, who runs a planning consultancy business in the north-east, was crowned the New to Freelancing winner – a new category to this year's award. She told Freelance Corner afterwards: "To be recognised in the industry as a freelancer, it gives you the self-assurance to you that you're actually doing the right thing."
And taking home the Freelancer of the Year Award was financial journalist and blogger, Iona Bain. She said: "The calibre of the other finalists is so high that to actually win is wonderful, but it's also a great vindication of the work I've been doing through the blog and also a recognition that this is a really crucial area for young people right now."
A note from the CEO
Chris Bryce, IPSE CEO, said: "In a truly exceptional field of finalists, Iona stood out as someone who epitomises everything that is brilliant, innovative and progressive about freelancing. Based on her existing achievements – which are numerous – and her business plan for the future, Iona was outstanding.
"Congratulations too to our runner-up Frances Ryan, as well as Chris Pipe and Harvey Morton who won the New to Freelancing and Young Freelancer of the Year awards. People like Iona, Frances, Harvey, Chris and indeed all 12 of our other fantastic finalists, are the real basis for these awards: to celebrate excellence across the UK's burgeoning self-employed community."