Melting Pot, the first co-working space in Scotland and one of the first in Europe, offers a flexible co-working space for freelancers in Edinburgh. Freelance Corner editor Jyoti Rambhai chats to Head of collaboration Samantha Hulls to find out about Melting Pot's journey. 
Not many co-working spaces can say they existed before the term 'co-working' became a popular phrase for shared office space. In fact, Melting Pot has been offering freelancers somewhere to work, collaborate and thrive for more than 11 years.
"Our founder, Claire Carpenter, had an idea about creating a hub, a central space where people could come and go as they needed," Samantha tells me as we sit down on the sofa in one of the cosy breakout booths.
"Claire has always worked for herself and wanted to find a way of not having to pay for an office when she wouldn't want to use it and couldn't afford to pay for it all year round. She also wanted to create a place to work where you could also get support, talk and even collaborate with other solo self-employed people, see friendly faces and not face the isolation of working from home."
Introducing co-working to Scotland
With a group of volunteers, Claire built the concept and the business, sourced funding and opened Melting Pot's doors in October 2007.
Samantha admits it was not an easy ride at the beginning, saying: "It took a long time to sell this idea that no-one had ever heard of before. The word 'co-working' wasn't really used in that way back then.
"We've learned a lot along the way, much of it through trial and error. But through hard work, we've built a community and created something that people actually need. It has helped us and their businesses thrive.
"We noticed about five years ago that the term 'co-working' was really starting to become more popular: people were actually searching for it. And that certainly made things easier. But in the last two years, we've seen a particularly large increase in people's awareness of what we do."
Melting Pot has around 180 members now, which include everyone from solo freelancers to charities and social enterprises.
What does Melting Pot offer?
The space offers a mixture of hotdesk, fixed desk and virtual office membership packages, and prices start at £57.50 for 25 hours a month.
Depending on the package, members can get twenty-four seven access to the space as well as, access to printers, lockable desk pedestal, meeting rooms, storage facilities and up to ten hours for a guest to use the space. All packages are flexible so people can increase or decrease their hours whenever they need.
More than just a co-working space
All members can attend professional development and networking events hosted by Melting Pot for free – and have access to an online portal. The portal, which Samantha explains is an "important resource", allows people to post on a community board, search for other members based on their skills and connect directly with people without having to be there.
The space itself is typical of any office environment and offers all the necessities you would expect, including fast wi-fi and, most importantly, free Fairtrade tea and coffee.
This co-working space has grown exceptionally since it opened, and they have even revamped it in the last few years to maximise the number of desks they can fit. And it is still growing, says Samantha.
"When I started working here, there were four of us. Now there are 13. And where everything used to be under one roof, we've actually had enough success and funding to expand into new areas."
Being a pioneer of shared office spaces, Melting Pot launched a couple of initiatives a few years ago in order to give back to the freelancing community. It has now been awarded 'Scotland's Centre for Social Innovation' status.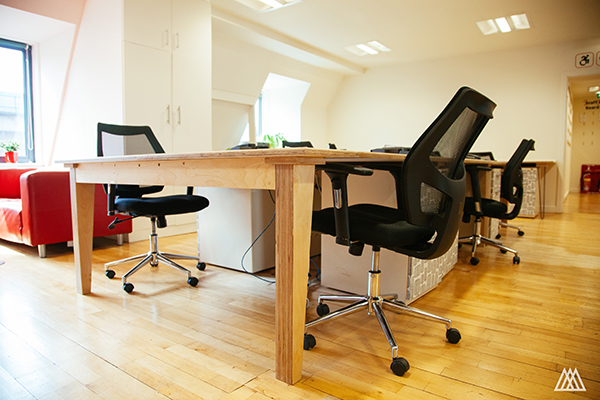 Co-working Accelerator Network
One of the initiatives is the Co-working Accelerator Network, which helps people set up their own co-working spaces. It offers support, guidance and practical resources to help business leaders run their own space.
"It is essentially about promoting quality co-working," adds Samantha. "It is more of a movement now than just a concept, which is supported by investment from the Scottish government.
"There are lots of levels to it. We support organisations not only with setting themselves up, but also connecting with other established co-working spaces and building a community where we can share knowledge."
The Melting Pot also have a scheme called Good Ideas, which has been going for six years. Also supported by the Scottish government, it helps and inspires people who want to turn their ideas into new charities, campaigns and social enterprises.
So what's next for this co-working space?
"We're going to keep building the Co-working Accelerator Network, working with various hubs and businesses not just in Scotland, but internationally. And as for the Melting Pot, we're just going to continue to grow then potentially assess in the next 12 months to see if there is room for another somewhere in Scotland."
As co-working spaces go, the Melting Pot is pretty standard. What makes this place stand out is their initiatives and the importance they place on supporting their freelancer community, and it is for this reason that they are continuing to grow.