Fancy some freelance travel inspiration? Mark Williams shares the coolest co-working spaces in the world.
The freelance economy is booming – and our working lives are changing. With 4.42 million independent professionals in the UK alone and thousands more joining our ranks each month, the demand for places where we can connect, collaborate and get stuff done continues to grow.
As a result, co-working spaces can now be found in pretty much every major city in the world. They come in all shapes and sizes from the basic, functional office space to elegant jungle sanctuaries with dozens of like-minded freelancers living, working and generally finding zen together under the same roof.
Got your bucket list on hand? Here are some places you can add to your list.
Beachub, Koh Phangan, Thailand
Koh Phangan, a tropical island paradise off the country's eastern coast, is better known for its Full Moon Party hedonism than a hotspot for microbusiness. But the island is also home to a burgeoning freelance scene; hip coffee shops and co-working spaces are popping up in every town. One example is Beachub: the world's first beachfront co-working space.
Members will soon leave behind the stresses of work on a day in Beachub; there are ocean-facing desks – an ideal vantage point for the stunning Thai sunsets – hammocks to chill out on, direct access to the sea when the temperature rises and showers for once you're done. Of course, that's not to forget the essentials; you'll also get a reliable, superfast broadband connection, private video conferencing room and good coffee on hand day and night.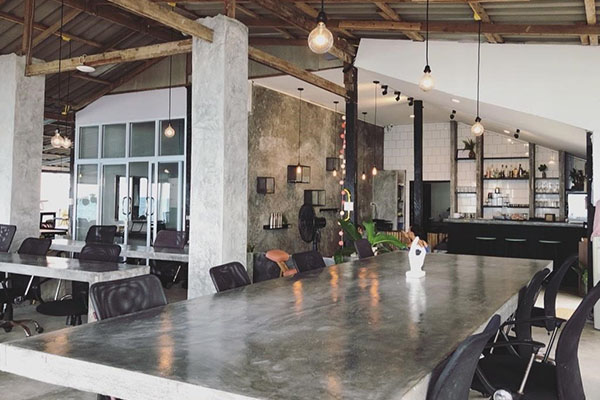 Village Underground, Lisbon, Portugal
Village Underground is all about promoting creativity and culture. Originating from East London in 2007, the concept has turned disused industrial spaces into vibrant venues for a diverse mix of creative events, nightlife, art and theatre. VULX is Village Underground's space in Lisbon's trendy Alcântara district, and this one sports a particularly memorable design; you'll be running your business in an enormous, brightly coloured, Lego-like fortress, comprised of 13 shipping containers with two double decker buses perched atop them.
There's room for up to 60 creative professionals and also conference rooms, a cafe and restaurant, a skate ramp and event space for concerts and parties – which in August included the legendary electronic music event Boiler Room.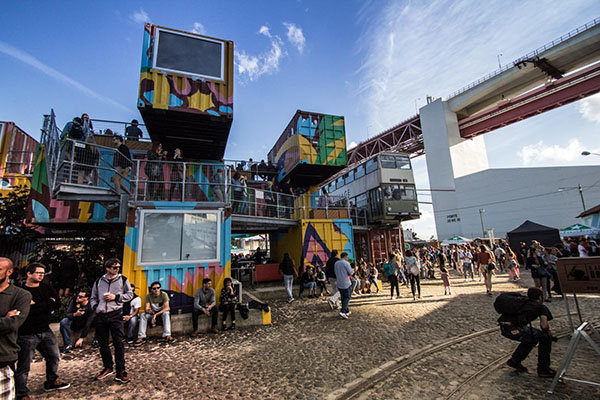 Hubud may well be the world's most famous co-working space, and with good reason: situated in the heart of Ubud, a traditional, rural Balinese town that attracts independent workers from every continent, Hubud is tight-knit community first and workspace second. It brings ambitious entrepreneurs together to inspire each other, and as a result, many a successful start-up began its journey here. The atmosphere in Hubud is like no other; every element is set up to facilitate meaningful connections between its members. There's a co-living scheme in addition to the shared workspace, and if you like, the team will even tailor you a landing package to help you adjust to Balinese culture on arrival.
You can drink locally grown coffee at your desk 24 hours a day (if that's your style!), or gather the team for a huddle in The Loft, a bamboo hideaway for up to 40 people. And when it's time to take a break, you can venture to nearby volcanos, oceans or yoga studios. In short: life as a freelancer is good here.
WeWork Carioca, Rio de Janeiro, Brazil
You might be familiar with WeWork; it's the biggest co-working franchise in the world, with over 800 locations in 124 cities. Aesthetics are always high on the design agenda at WeWork locations, and this one is nothing short of stunning. The style is reminiscent of a canteen in a tech start-up or vibrant university campus; the space is bright and airy with cozy, vintage leather sofas and plump armchairs scattered around too.
Spanning six floors in downtown Rio's financial district, the space is home to a wide range of independent workers and remote teams; big things in the worlds of law, finance, design and tech are all happening here. There's also a bar to hang out in and – the pièce de résistance – a sixth floor terrace with epic views over Rio and the Atlantic ocean beyond.