Here's a yummy work from home treat using fridge leftovers from food journalist Louise Quick.
Tiffin, fridge cake, whatever you call it, it's delicious. Plus, with no baking required, tiffin makes a great child-friendly recipe. I used to make it all the time with a childhood friend and we packed ours with as many marshmallows as physically possible. Now I'm older I've convinced myself that swapping marshmallows for dried fruit and nuts makes this a nutritious afternoon snack.
The joy of tiffin is that it's almost impossible to mess up. Use any dried fruit and nuts you fancy (or can find on the shop shelves) and it still tastes great. Dried apricots? Sure. Pistachios and glacé cherries? Why not?
Recipe makes 12
250g digestive biscuits (£0.33)
200g dark chocolate (£1.00)
150g milk chocolate (£0.75)
100g unsalted butter (£0.60)
150g runny honey (£0.45)
100g chopped dates (£0.90)
50g dried cranberries (£0.65)
100g chopped almonds (£1.25)
Salt
Price total: £5.93
Portion price: £0.50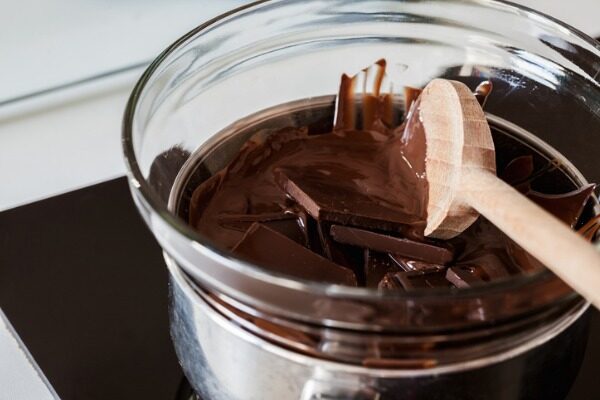 Grease an 8-inch square baking tin and line with cling film.
Smash the digestive biscuits by putting them in a sealed bag and bashing them with a rolling pin. I like to go easy on the bashing to keep the biscuits chunky.
Melt all the dark chocolate and 100g of milk chocolate together in a heat-proof bowl over a pan of boiling water. Make sure the water isn't touching the bowl to ensure the chocolate doesn't burn.
Once melted, add the butter and honey and mix until everything has melted into silky deliciousness.
Remove the bowl from the heat and add the bashed biscuits, dates, cranberries, almonds, and a good pinch of salt. Give it all a good stir until everything is combined.
Pour the mixture into the lined tin and pack it down, remembering to push it into the corners.
Melt the remaining 50g of milk chocolate and drizzle it over the tiffin using a teaspoon. Be as artistic as you like.
Leave it out to cool and then pop it in the fridge for about two hours.
Turn it out onto a board, cut into 12 squares, and tuck in!