Now we are all working from home, we asked nutritionist Beth Edwards for some healthy recipes to help us power through the day. The best part: these recipes use ingredients you may already have at the back of your cupboard. 
This recipe is delicious on rye toast or with salmon, or add as a dollop to grains or salad.
Ingredients (to make 4 servings):
1 cup cooked beetroot, roughly chopped
1 clove garlic, crushed
1 tsb cumin seeds
Small bunch of coriander
1 tbsp olive oil
½ cup walnuts, toasted
2 tsp balsamic vinegar
Pinch of salt
Begin by dry frying the cumin seeds for a minute or two, until the aroma is released.
Remove to a pestle and mortar and crush.
Dry fry the walnuts until nicely browned. Place all the ingredients in a food processor ans whizz, leaving a little texture.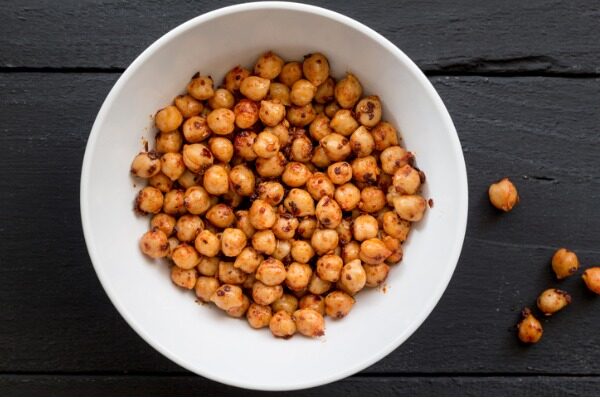 Ingredients:
400g can chickpeas, drained
1 tsp coconut oil, melted
1 tsp smoked paprika
1 tsp ground cumin
1 tsp ground coriander
Method:
Heat oven to 180 C.
Tip the chickpeas into a bowl and toss with coconut oil, smoked paprika, cumin and coriander.
Toss well and tip onto a baking tray. Bake for 35 mins, moving them round the tray halfway through.
Leave to cool, then store in an airtight container.
Hazelnut crunch peanut butter balls
Ingredients:
5 medjool dates, pitted
100g 70% dark chocolate
5 cups of oats
1 cup nut butter
Method:
Soak the dates in boiling water (enough to cover) and leave for 15 minutes.
Bring a small pan of water to the boil, place a small glass bowl over the top, and break the chocolate into pieces. Allow the chocolate to melt, stirring occasionally. Once melted, turn to low heat and leave on the stove.
Blend the oats into a flour. Place in a bowl.
Blend the dates and water until a paste forms.
Mix the date paste, oat flour and nut butter and roll into balls.
Dip each ball into the melted dark chocolate and then onto a parchment-lined plate.
Keep in the fridge.
Inspiration for other recipes
BBC Good Food
Hemsley + Hemsley
Eating Well
Mindful Chef
Amelia Freer
Plan ahead. Stock up on healthy ingredients for your snacks when you grocery shop.
Ditch the junk. Clear your pantry of any tempting cheeky treats. You can't snack on a cookie if there aren't any in the house.
Pre-pack. Pre-portion your snacks to grab on the go.
Prepare your yummy healthy snacks in advance, so they are ready to go as soon as you need them. Protein balls are great to make in bulk!
Eat what you enjoy. Snack on the healthy swaps that you like. This will help keep you motivated and you can try new things when you're ready.