Discover useful advice from the experience of other freelancers and self-employed professionals in our My Freelance Story series. We've chatted with a wide range of people to find out how they developed their careers, the challenges they've tackled, and what tips they can share.
We've spoken to freelance WordPress developer Jem Turner about her work, including balancing work with parenting, and building a micro-agency as a founder and managing director alongside delivering client projects
How long have you been self-employed? What were you doing before?
11 years this year. Prior to that I was a developer at a marketing agency, twice! I left, went freelance, then went back with a more senior job title and pay rise and kept my freelancing up on the side. Before long I realised I am basically unemployable and returned to freelancing full time.
Why did you choose to become a freelance developer?
I'm not sure that choose is the right word. After I had my second child, the potential cost of childcare to return to work full time was prohibitive; I decided to give freelancing a go. I ended up leaping straight in, working with a newborn baby cradled in my knee or in a sling on my back. It was hard, but the flexibility to work around my children has been invaluable over the years, even though that 'newborn' is now nearly 11.
What does your typical day look like?
They're a bit of a mix, but generally speaking once the kids are safely deposited in school, I check out ClickUp to see what tasks I have queued up for the day. I glance at my inbox, although don't do too much with it as I have someone take care of that for me (Matt). Once I know what I'm working on, I try to get straight on to it. 
A lot of my work is ad hoc fixes for my clients and the agencies I white label for. Beyond that, I usually have a couple of big projects on the go and a side project to tinker with.
Most days will be a mix of actual coding, some admin (can't get away from it, even with Matt) and invoicing. I restrict calls to a couple of days a week which gives me a greater amount of focus time for project work. Mondays are usually reserved for retainer client tasks. I stop at 2:55 to do the school run, and then sometimes work again 4-5 (depending on client load and deadlines).
What skills or talents does a good web developer tend to have?
Apart from the obvious coding skills, I think a good developer needs to have patience, empathy and troubleshooting skills.
Patience and empathy are particularly important when dealing with clients, especially those who are not hugely tech savvy or who were late adopters to the internet. Patience also goes hand in hand with troubleshooting skills, because StackOverflow doesn't always have the answers.
Are there any qualifications required to become a developer? Or any that can help secure more clients or higher rates?
Qualifications are definitely not needed to get started. Roughly 50% of the devs I know are self-taught, myself included. 
Securing clients and charging more money is generally a reflection of confidence and experience, rather than because of qualifications. I've never had a client ask what my CV looks like in 20+ years of developing professionally but they do want to see past work.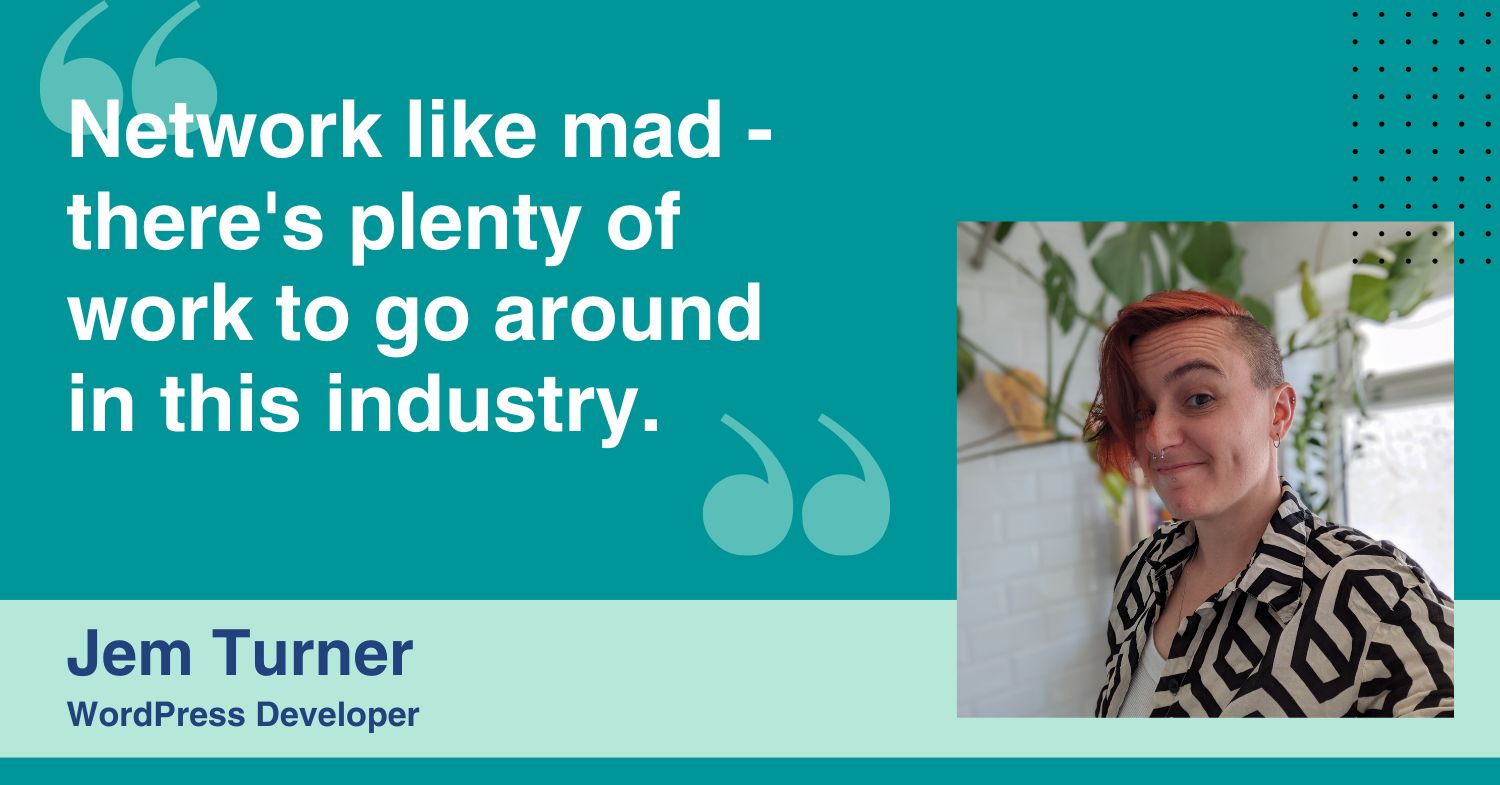 How do you tend to find clients? Has that changed over time?
Clients find me. I am fortunate enough to be ranked highly for keywords and phrases relevant to my profession which drives a lot of leads (not all of them great, mind you). Prior to that, word of mouth was key to getting business and one of the most important things in establishing a good reputation.
What are your favourite freelancing tools and equipment? Is there anything special or unusual about your workspace?
Aside from a decent PC with a bloody wide screen, my tools are mostly software – I predominantly use PHPStorm, ClickUp and Slack. There's nothing particularly special about my workspace, except maybe the extraordinarily large piles of clutter (I like a tidy desk in principle, but it doesn't work that way in practice).
Do you prefer to work with music, background noise or pure silence? 
Choice of background noise depends on what I'm working on and the mood I'm in. If I need to concentrate hard, I prefer either silence or a few familiar songs – something that my ADHD brain doesn't need to think too much about. If I'm working on something less taxing I'll listen to either 90s pop or a mixed playlist. If I'm feeling sad or stressed I'll put a familiar film on in the background which for some reason tends to comfort me.
What are your proudest moments or biggest achievements since becoming freelance?
Surviving launching a freelance career with a newborn, and being able to buy my ex out of our shared mortgage to keep a roof over my children's heads when we split are probably the top two. 
From a work point of view, increasing my income every year for 11 years in a row is pretty cool. I have some particularly enjoyable projects I was proud to launch, but I'm not sure they'll ever come close to being able to provide for my kids as a single parent.
And what's the biggest lesson you've learned from freelancing?
Own your mistakes. In an agency it's really easy to pass the buck if something goes wrong, because there's usually multiple people involved in a project. When it's just you, if you f*** up, you just have to hold your hands up and admit it. I've made a few mistakes in my time and never once been admonished for just saying sorry and dealing with it.
What advice would you give to someone who wants to become a freelance developer?
A few things. Firstly, network like mad. Get to know other developers – see them as colleagues and not competitors. There's plenty of work to go around in this industry and it's easier to share it if people know who you are.
Secondly, learn to communicate. Respond to your emails, slack messages, DMs etc. As someone who regularly hires other freelance developers, there's no bigger red flag than a dev who unnecessarily takes days and days to respond to work-related emails. If you make me wait, I have to make my clients wait which impacts my reputation and that's a huge no; my reputation is my business.
Thirdly, never stop learning. 
How can you see freelancing changing in the future for web developers?
I've never been particularly good at predicting the future so wouldn't want to make guesses that could make me look stupid 6 months down the line, but I will say that I'm seeing an increase in mid level "bit of everything" developers struggling to find work. This makes me think now is a good time to start specialising in something – build your expertise, advertise your skills and create a notable presence. You don't have to only do your speciality, but it helps to have one.
What's the best thing about being freelance or self-employed?
For me, it's always been the flexibility to be there for my children. Second to that is the freedom to do what works for me, especially in relation to my neurodiversities and the impact they have day to day. 
I know that earning potential is important to many freelancers, and it's certainly possible to earn a lot as a freelance developer, but as long as my bills are paid and my kids are fed, that doesn't really matter to me.
Find out more about Jem's work via her freelance site at jemturner.co.uk, or her micro-agency ultimatelybetter.com, and she's available on most social media platforms as @jemjabella, including Twitter.
Want to read more inspirational stories from freelancers across a variety of industries and sectors? Try previous interviews;
And if you've been inspired to consider a new career, why not find out how to become a freelance WordPress developer with our guide to getting started?