Nestled in a small industrial back alley in Bristol sits Pollen Place – a cosy, fresh and bright industrial unit-turned-co-working space.
When you think of co-working spaces, often the more hipster ideas come to mind first; a multi-coloured room with bean bags, a dog, a pool table and a fridge full of beer. That's what I was expecting at least, as I approached the workspace.
That's partly because this trendy back alley would not look out of place in Shoreditch, but is situated in what feels like Bristol's equivalent, Stonescroft. Neil Quinn, the manager of Pollen Place, describes Stonescroft as the "creative epicentre" in Bristol; central to the bustle of the city. In fact, the space neighbours a yoga studio and an architectural firm and feels like a hidden gem in this busy area.
Pollen Place is quite refreshingly the opposite of what I was expecting, although manager Neil does tell me he keeps a supply of beer in the fridge. This space is quiet, neat and tidy, with both front doors wide open and the gentle sound of the street outside.
Co-work on one side, hip-hop on the other
The space is split into two. On one side is an office space with desks, and on the other a bright, multi-purpose room. This room has the technology to host a variety of events, including a green screen and a white screen, Neil tells me.
"Just last night I had a guy doing a hip-hop video in here, and last week someone else filmed a music video in here," he says. "We have a set of lights, and tripods for all cameras, so the room can be a mini filming studio."
The co-working area in the adjoining unit has a very different atmosphere; it has more of an office vibe. This, Neil explains, is because many of the freelancers work there on a full-time basis and so there is even an office-style culture where everyone goes out for after-work drinks at the local pub on Fridays.
 "The way the space is considered and decorated is to promote productivity – the artwork and plants contribute to making it a nice place to work," Neil adds. You can certainly see that. The decoration is modest and subtlety trendy, and not overcrowded.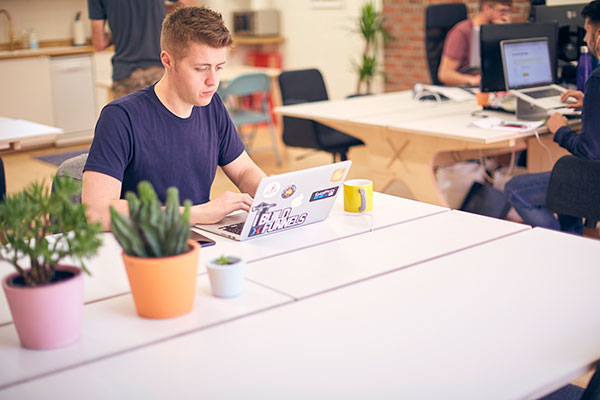 What does membership get you?
Membership costs £195 per month, which includes refreshments, a key to the space, and 24-hour access. The refreshments are modest but plentiful – a bowl of fruit, a jar of chocolate digestives, tea and coffee. There is certainly a feeling that you bring your own food and drink. Pollen Place strikes me as the place to co-work if you miss being in an office, despite the small choice of snacks.
"We meet potential members before we give them a set of keys," Neil explains. "Everyone has to be the right fit for the place."
With only 16 desks, Pollen Place is a relatively small co-working space, but new members are always welcomed, I am told. The space offers each member a permanent desk, so they are free to make it their own. Members also have one-hour's free rental of the multi-purpose room next door and can hire it for just £6 an hour after that. The space also regularly hosts meet-ups and also sponsors a digital marketing session once a month.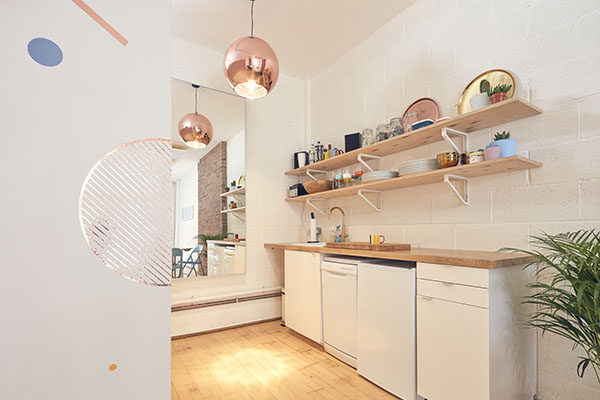 Neil says: "It's like a community – we have even had members start small businesses together, such as Offset.Earth." Offset.Earth is a subscription service which helps people reduce their impact on the climate.
The feeling of community is shared across the street where Pollen Place is situated. Once a year, the businesses there convert the car park at one end into a street party for everyone to attend.
"They put a barbecue on for people, some ball games – it is a good chance to get together with the other businesses on the street," Neil explains.
I had no sense of that hipster, trying-too-hard vibe here at all. In fact, it felt very warm and welcoming. Pollen, or the idea of bees, is a somewhat overused metaphor to describe the self-employed, with many co-working spaces calling themselves a 'hive'.
This is different, though. Pollen Place was named as such because the owners of the space are beekeepers themselves. Such as is the way of the whole place – everything feels genuine and with purpose, no frills necessary.