Sightseeing as you work? Workable's new East London co-working space brings the views of London into the office. 
With slick floor-to-ceiling windows offering panoramic views across London, contemporary décor and of course it's hipster location, it may be hard to find a reason not to work at East London's new co-working space, Workable.
Workable is easily accessible for commuters, just a short walk away from Stratford International station.
The space offers freelancers not only views of London Stadium, but comfy chairs to work from, which coupled with the high ceilings make the space feel bright and airy, even on a cloudy day.
Day Pass
£15 a day for access to hot desks and soft seating areas
Lounge space
£220 a month for access to hot desks and comfortable seating areas
Club space
Pre-book your preferred seat and choose from high, low or adjustable desks via the app. Also includes access to private Me Space pods and comfy break-out areas.
Focus Room
£440 a month for a bookable desk in the Focus Room, which gives you full access to all facilities at Workable plus the focus room for quiet work.
As you enter the space, there is a café in the middle, with two distinct working spaces on either side. The café is a social enterprise to help homeless people into work, called Change Please – a distasteful name in my opinion for a genuinely great project.
To the right of the café is the Lounge Space, a place to work which has the energy of a coffee shop. On the left is the Club Space, a more exclusive area with bookable desks, but it is more expensive than the Lounge Space.
The office is open from 9am to 5pm Monday to Saturday and members are free to visit as often as they would like. Hot and cold food is served all day from the café on-site, plus there is fresh fruit, tea and coffee available from the tea point. As you would expect from a co-working space, there is high-speed wi-fi.
Workable offer an exclusive member event programme which covers everything from yoga and networking to presentations and business advice.
All members become part of an online community and are asked to download the Workable app – that's right, they have their very own co-working app. Through the app, members can book desks, meeting rooms, or even spaces on exclusive courses.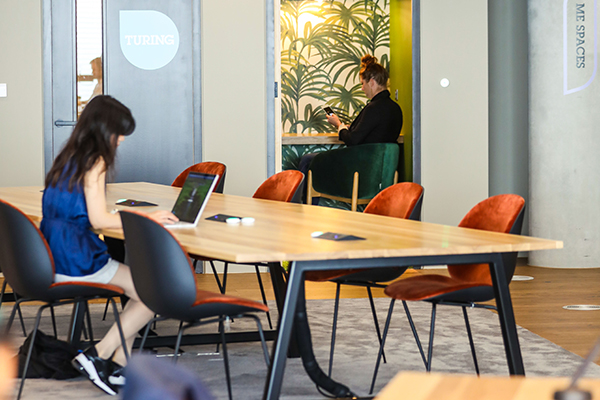 On one wall of the Club Space there are small office rooms, all with a different theme. They allow you to work in a small private space and can be booked via the app. These seem more 'instagramable' than a workspace, but are ideal to take private phone calls.
The meeting rooms are the kind you would expect in a modern film – and would be the perfect space to impress clients. I sat in one and listened to a talk at Workable's Summer Start-Up School. While the talk was insightful and engaging, it was hard not to be distracted by the view. All meeting rooms are available to book at an additional cost.
Overall, this is a great place to take clients to meet in a truly remarkable location, and the meeting rooms are superb for this. However, I don't think I could work here every day. For me, co-working spaces should be warmer and I didn't feel like I could relax here. Perhaps if you are prone to distractions at home then this is the space for you – just don't sit near a window.