Working from a café is not a new trend. There are many benefits to working from your local coffee house. It's free, there are usually power points, wi-fi and somebody else to make your coffee and do the dishes afterwards.
However, it can come with its downsides: kids running around, the distracting conversation of someone on the table next to you, and coffee prices so high they may stop you from ever saving enough to buy a house.
But Santander's Work Café in Leeds, the first in the UK, recognises these challenges and has an answer for every single one of them. Free for anyone to use, not just Santander customers, this space, which opened in July, is the perfect balance of café and co-working space.
"In other cafés you may feel like you have to buy something, or you may be encouraged to move on," manager Bella tells me. "But not here. You can work for as long as you like, and you will not be expected to buy anything if you don't want to."
As I enter this bright, newly refurbished space, it feels like any other café. There is a selection of freshly prepared sandwiches, giant cookies and beautiful-looking cakes on display. There is a mixture of people here, some who are clearly having an informal meeting, and some who are there with children.
To my left, however, is a large co-working space, far away enough from the noise of the café, but close enough to smell the freshly ground coffee. Chatting to Scott, who works from the café most days, he says: "The noise is never a problem. People know this is a work café, and they go elsewhere if they are just looking for somewhere to have a catch-up."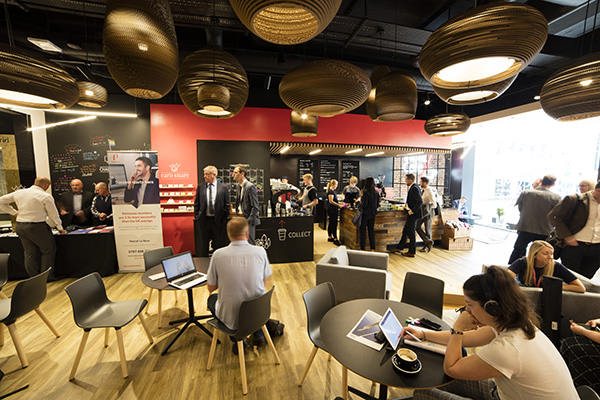 Not only is the café free to work from, but Santander cardholders also get 30 per cent off hot drinks, meaning a large coffee costs less than £2. The coffee is sourced from Taylor St Baristas and is impressive – the first five-star rating I have given to coffee in a co-working space.
The only difference in this co-working space is that you can't bring your own food and drink in, but when a freshly prepared sandwich costs £3 in the café, I doubt you'd really feel the need to.
"What we are offering is an informal space for people to use, rather than being tied down to a permanent desk somewhere. Quite often, people will work here all day, sometimes every day, but for those who want a permanent desk, there are many other places to choose from in Leeds," Bella adds.
The space is open from 8am to 6pm every day and freelancers can stay as long as they like without having to sign a contract.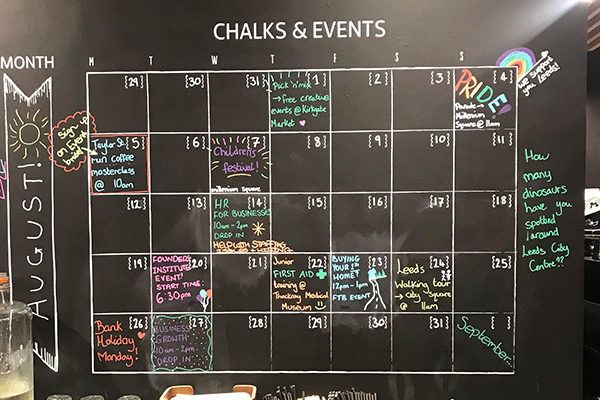 A space for the community
"You don't need a membership to work here; you can turn up just as you would to work in a café, which appeals to a lot of people.
"We have a very diverse crowd. We see everyone from students, small businesses and freelancers, all the way up to people working for big businesses," she says.
My worry entering the space was that there would be Santander employees dotted around, constantly trying to sell mortgages or loans to people trying to work. This isn't the case – workers are left alone, and Bella is clear that her staff do not try and sell to anyone.
"We want to get local businesses using the space. There doesn't have to be anything that we are getting back, but it's allowing us to get to know the start-up community in Leeds and build that network."
That being said, the café does have banking facilities and you can book meetings with Santander staff on-site, to talk about a product or service.
But nearly everything is essentially free. You can book a meeting room, attend one of their events or go to one of the drop-in sessions with impartial advisers from external organisations, whether or not you are a Santander customer.
The café even has a business relationship manager, who helps freelancers network and collaborate with people in the same industry or who are working on similar projects.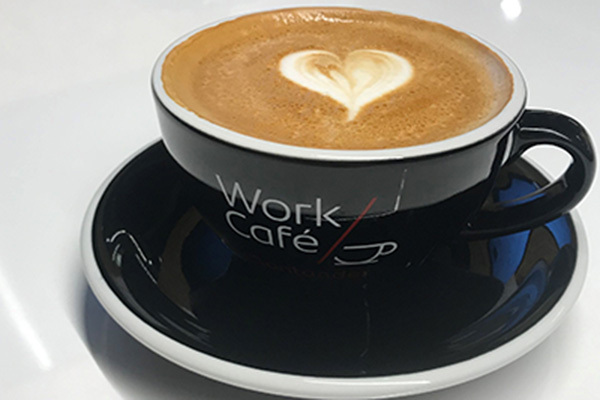 This is the first time Freelance Corner has given a five-star review to a co-working space, and to a deserving winner. Their commitment to helping those starting out is admirable, and I hope to see more Santander Work Cafés popping up in the UK soon.