If you've freelanced for smaller clients, there's a good chance you've ended up also helping them with developing projects, recommending new systems and technology and helping them to change and evolve. And if you ever want to specialise in those areas, here's some practical advice on how to become a freelance business analyst.
There's large and ongoing rise in demand for data-driven roles. And unlike some other jobs involving number crunching and analysis, you'll also be communicating and interacting with clients on a regular basis to share your recommendations, communicate changes, and engage with business leaders. So, no two projects will be the same.
The skills and responsibilities of a business analyst also cross over with a variety of other analyst roles in Computer Systems, Information Security or Operations Research.
Contents:
What does a freelance business analyst do?
It's an evolving and changing role, but key responsibilities for a freelance business analyst would include being able to understand business processes, and evaluate them for cost, efficiency and results.
You'll typically then compile recommendations for how the business operations can be improved, or where new technology and systems would deliver more benefits. And then lead on the research, implementation and project management of the changes. Which means understanding business process models and frameworks, and where they might apply to a particular client, or need to be adapted.
It's a disciplined approach for introducing and managing change, by identifying and defining the solutions that will deliver maximum value, including existing processes and new opportunities.
At each stage, you'll also need to be championing recommendations, communicating changes and helping to establish the new processes with business teams and leaders. This can involve writing business cases, presenting recommendations and working effectively with a wide range of people.
This all allows you to bridge any gap between the management of a company, and the complex data and technical systems which they're using, or may need to implement.
You may find yourself increasingly drifting into this type of career, particularly if you've previously been employed or freelanced in data-driven roles, enjoy problem solving and want to have a greater impact at a more senior level.
Do you need specific skills or qualifications?
A variety of UK universities do offer degrees in Business Analytics and Management, or Business Data Analytics, along with post graduate courses covering Business Intelligence, Marketing, Decision Sciences and Big Data. As a relatively new field, most existing business analysts will tend to hold a degree of some sort, but these will tend to have been in a related field such as Business Studies or Computer Science and Technology.
Alternatively, it's possible to move from an existing career in business or IT, but you're likely to need several years of relevant experience, along with some formal training, to make the switch to a specialist Business Analyst role.
It may seem like the entry requirements are fairly high to become a freelance Business Analyst, but given that you'll be potentially be responsible for changing the way large companies and corporations operate, or taking a significant role in the future of smaller businesses, it's not surprising clients generally need the reassurance of formal qualifications alongside relevant experience.
You'll need a wide range of skills and experience, but some of the key areas include:
Written and oral communication.
Interpersonal and consulting skills.
Analytical thinking and problem solving.
Knowledge of business structures.
Process modelling.
Organisational skills and an eye for accuracy and detail.
Understanding cost benefit analysis.
A good knowledge of networks, databases and relevant technology.
Organisations offering training and certification include the International Institute for Business Analysis, BCS The Chartered Institute for IT, the Project Management Institute, or the International Qualification Board for Business Analysis.
Before investing in any paid courses or training, it's a good idea to ask existing Business Analysts and potential clients to suggest which certification they feel would have the most value for you in securing projects. You may also want to look at training in related areas, whether that's to improve your communication and consulting skills, or cover related disciplines which could help you stand out and have a greater impact as a freelance Business Analyst.
For example, knowledge of Marketing, Conversation Rate Optimisation and Multivariate Testing, or specialist knowledge of specific industry sectors.
How much do freelance business analysts typically earn?
There's relatively limited data available on the average income for freelance business analysts, but the median salary for a full-time role in the UK is around £52,500 (Totaljobs). Entry level positions tend to range between £21,000 to £31,500.
But as a freelancer, your rates will depend on your skills, experience and previous success. If you can potentially save a company millions of pounds, then you'll be able to set a much higher day rate as a result.
Anecdotally, six figure annual incomes are not unusual for a freelance business analyst with a solid client portfolio.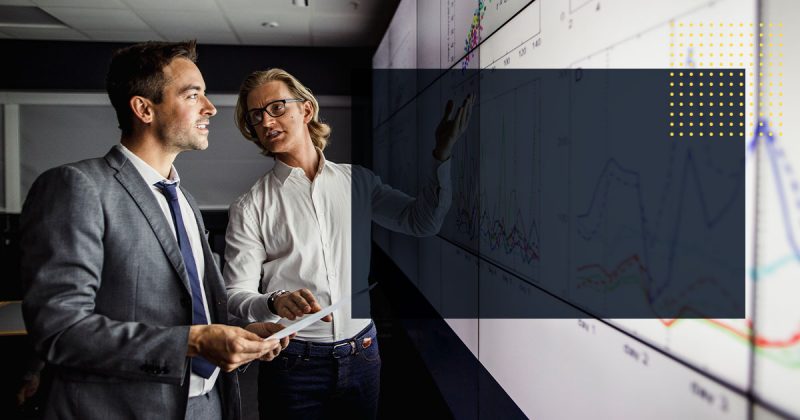 Where to find clients as a freelance business analyst
If you're starting out as a new freelance business analyst, it can be difficult to secure clients. They'll want to know you can provide proven, reliable solutions for them to make the right business decisions.
One solution is to slowly transfer into the role with an existing client. You could also consider taking on transitional roles such as more entry-level technical and data analysis. If you have specialist knowledge in an industry or sector, this can balance a lack of experience in formal business analysis in some cases.
Even with academic qualifications or industry certification, practical work experience is valuable. This could come via internships, by volunteering for charities or smaller organisations which may need the benefits of a business analyst but don't have a budget, or by finding an established business analyst who may be willing to let you work on smaller tasks and gain paid experience that way.
As you build up your career and client portfolio, you should make sure you've kept your CV updated, along with maintaining your profile on relevant freelance job sites and social networks. Obviously, LinkedIn is likely to be suitable for freelance business analysts to build relationships with potential employers, but you may also find value from a personal website, private Slack groups, or real-world networking events.
It's always a good idea to build up a picture of your ideal client, so you have a clear focus on who you should be targeting. And to try and define a clear and unique value proposition to capture their attention. That could be include expertise in an industry sector, a specific approach to project management or skills using particular analysis software.
You can also build your project list by ensuring you secure testimonials and case studies which can be shared publicly, asking your existing clients for referrals, or by partnering with other freelancers in related fields. For example, freelance marketers, developers and web designers may often be asked for business recommendations by clients and not be in a position to answer them. So they'd be much happier referring those questions, and any resulting project work, to someone with relevant knowledge.
More support and resources for freelance business analysts
Researching other freelance careers? Why not check out our other guides:
And you can get support and help if you're starting out with self-employment, or still in the early stages of building your career, with the IPSE Incubator. The 12-month programme is currently free with IPSE membership, and includes advice, events, webinars, networking and more, tailored to anyone just beginning their freelance business.