Becoming a full or part-time freelance photographer appeals to many people. The idea of creating beautiful pictures, earning a good living and being your own boss attracts a lot of interest. But the reality of how to become a freelance photographer can be a shock, especially after you've invested thousands of pounds in equipment and software.
Alongside writing and social media marketing, freelance photography probably has the biggest rate of beginners jumping into self-employment with just a dream and an Instagram account. But becoming successful enough to earn a sustainable living requires more than just an eye for a good picture.
Working with freelance photographers at all levels, from aspiring hobbyists to established self-employed professionals, we've compiled this guide to help anyone new to freelancing. And those who might be struggling, or need a refresher to help their career move forward.
What does a freelance photographer do?
Becoming a professional freelance photographer means setting up and managing your business, in addition to every aspect of shooting pictures.
While some photographers sell their art directly to earn an income, most work will be client based. And this means finding projects, collaborating with clients to ensure you can deliver what they need, then managing all the aspects of the photo shoot itself. This includes charging batteries, planning for weather and lighting, and potentially working with humans or other subjects to get the shots you want.
You may also need to plan for retouching and post-production. This can range from simple corrections to improve an image, to detailed reworking using photo editing software.
Should you specialise in a type of photography?
Most photographers have particular strengths or interest in a specific type of photography. And specialising will also help you build a reputation in that area. This helps you benefit from both personal recommendations, and when a potential client is searching for a photographer.
There's a wide range of niche specialities in photography. For example, virtual photographers now specialise in capturing shots within video games for a variety of organisations and media outlets (for instance, Getty is the official in-game photography partner for racing game Gran Turismo with accomplished sports photographer Clive Rose).
We've listed some of the potential routes for you to consider as inspiration:
Architectural and Interior photography
Event photography
Fashion photography
Pet photography
Portrait photography
PR photography
Product photography
Social media photography
Sports photography
Stock photography
Virtual photography
Wedding photography
Wildlife photography
Choosing a niche doesn't necessarily mean those are the only photographs you will ever take, or you're locked into that specialism for your career. But it will give you a focus for your portfolio, website, and other marketing.
Asking yourself some simple questions can help to narrow the list. Do you enjoy working with human subjects, or prefer the greater control available by capturing inanimate objects? Would you prefer a day spent in isolation out in nature, or capturing the drama and excitement of a big sporting moment? Are you better with a methodical list of pre-determined photos which are required by a client, or operating with more freedom and risk?
What skills or qualifications do you need?
Formal training or qualifications aren't required to become a freelance photographer. But they can help, particularly when you're starting out. Especially if you're looking to specialise in an area where clients may look for proof of your professional abilities.
Many photographers do pursue higher education or degrees at college or university to establish their careers. This also helps if you decide to start out or switch to employment at any stage. A variety of qualifications and courses are also available at various levels, including from the British Academy of Photographers, the Royal Photographic Society, or the Association of Photographers.
Before investing potentially substantial amounts in a specific course or qualification, it's important to do some research and see whether it's something which is potentially valuable to clients.
Another alternative is to build experience by working with a more established photographer, or in a staff role, before branching out on your own when it's appropriate. This can help you build contacts and experience alongside any formal education.
The important thing is that you can be fairly confident about delivering client work to a good standard based on your training and experience.
Standard freelancing skills including organisation, time management and budgeting will also be important to turn a photography hobby into a successful business. And even if you prefer to work alone, you'll need some communication and social skills to deal with clients and customers.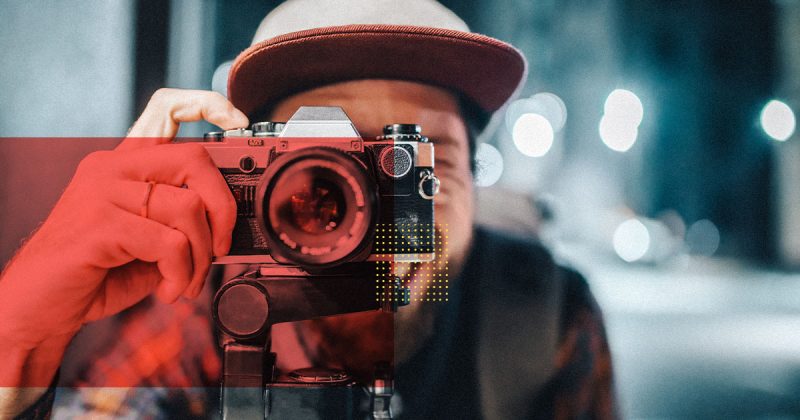 What equipment do you need?
It's possible to capture great photographs with a smartphone, or virtual shots without a camera at all. But you'll need to understand how to get the best from whatever you're using. And investing in good quality equipment will help to make your life easier.
In most cases, you'll obviously need a camera. This can range from an entry-level DSLR up to professional equipment, depending on your needs.
You'll also need to invest in lenses beyond what comes supplied with a camera. Examples include fisheye, wide zoom, macro, telephoto and more, depending on what type of photography you're doing, and the shot you're trying to get.
Lighting is vital for capturing good photos, so there's a range of equipment you may need to acquire, including lights, diffusers and reflectors.
For shooting portraits or products, you might need a range of backdrops, along with other equipment including flash triggers, strobes etc.
You probably won't overlook the benefits of a tripod or stand, especially when your arms get tired. But there are other things which are easily forgotten, such as memory cards (including spares), extra batteries and items which can prevent a mistake from becoming a disaster.
You may decide to invest in a professional standard printer or outsource to a specialist. And if you need a studio, then rental costs also need to be taken into account. If you have a garage or space at home, then the cost of conversion should be factored in.
The rise of digital photography also means you need a computer which is capable of managing and editing your photos, along with suitable software. Although there are a wide range of solutions available, including good free open source photo editing packages, you may need to conform to client and industry standards, which tend to favour Adobe LightRoom and Photoshop, for example.
Again, it's as important to understand as much about the software you use as your camera to get the best results from retouching or editing.
You don't necessarily need to buy everything at once if you're starting out, or to purchase everything brand new. But listing everything out and budgeting will allow you to plan for the future, and means you'll know if a bargain crops up somewhere, rather than being caught out.
How much can a freelance photographer usually earn?
As with any freelance creative career, hourly rates and annual salaries can vary wildly based on your experience, specialism and ability to negotiate with clients. The highest paid photographer may not be the best at capturing shots, but might happen to specialise in a niche which is in-demand at the moment.
The average annual pay for a freelance photographer is around £31,336 based on figures from Glassdoor, which is broadly similar to staff roles. But when you're starting out, you could be earning a lot less. Indeed put the average hourly rate at £22.36 (and annual earnings around £10,228), but this is higher in larger cities such as London, Glasgow or Manchester.
Pay really can vary from around £1 generated by a stock image photo, to the high rates you can secure as a top agency-represented fashion photographer. Regardless of your current income, you need to ensure that you've calculated your costs to avoid potentially losing money by working.
This includes equipment costs, the time and labour, and travel. But don't forget to also take time to factor in the costs of your marketing (e.g. business cards, a website etc), insurance, taxes, and more. You may need professional indemnity, public liability or product liability cover, depending on your work, for example.
One way to increase your earnings over time is to ensure that your contracts clearly state usage and copyright terms. As a photographer, you own your work and grant a license to the client for how they will use an image. You can choose to sell photos outright for a higher fee, or give yourself the potential to earn again from the same images if the client wants to change or renew your agreement.
How to find clients as a freelance photographer?
As you build a reputation as a freelance photographer, maintaining a steady stream of new and existing clients should become easier. But it can be hard to build a regular income when you're starting out, or branching into a new area.
Visuals are obviously a key part of reaching new clients, and helping them decide to pick you rather than any competitors. As a photographer, building a high-quality portfolio is massively important, as just one image can potentially transform someone from browsing to deciding it's essential to hire you.
There are various options for creating a photography portfolio website from all the main site building platforms, including Wix, Squarespace and a variety of WordPress themes, alongside specialist sites including Zenfolio or Format. The key is to keep the theme and design elegantly simple, allowing your photographs to stand out.
Selecting and editing shots for your portfolio is important. It's a balance between your personal preferences, and what's most likely to work for your desired clients. If you're an architectural photographer, you may be proud of shots of your family or wildlife, but will it resonate with a potential client, or confuse them?
The same should apply to any written content. Along with your contact details, it's worth adding useful information about your niche, relevant experience, testimonials from happy previous clients and anything else that supports you as the obvious choice. This will help your site to appear in relevant search results.
When it comes to social media, obviously there's a logical focus on those based around image sharing, such as Instagram or Pinterest. But also think about where your ideal clients might be located. If you're mainly targeting business professionals to offer headshots and portraits for corporate websites, then LinkedIn is an obvious route. Whereas if you want to reach families, you might focus more on Facebook instead.
And while it's great for clients to find you, getting a foot in the door might require a more proactive approach. Business card drops, leafleting, local advertising and other offline marketing can pay dividends.
If you're looking to connect with local businesses, then why not attend a relevant networking event and offer some free photos to the organisers or attendees? Or apply the same approach to family events and entertainment?
You may need to experiment, track your results, and then adapt to find the perfect marketing methods for your specific photography business. But once you find one or two channels which work, you should be able to increase the results by investing more in those efforts.
Legal requirements for freelance photographers
It might be a hassle to learn and understand all of the legal requirements for freelance photographers. But it can also safeguard your work, avoid issues and fines, and even make you more money.
Copyright is obviously a key issue to ensure you know your rights, and protect your income. You own the rights to work you have created, and it's important to understand the different financial implications of giving clients an image for specific uses, or signing it over entirely.
We also previously mentioned insurance. With expensive cameras, lenses and other equipment at risk, adequate cover is important. But there are also other potential requirements, including public liability, product liability, motor insurance and more. If you rely on a personal vehicle to travel to jobs regularly, then you may need to switch the details of your cover, for example.
Digital photography means hazardous substances are less likely to be an issue, but you still need to comply with workplace health and safety, and fire safety legislation, especially if you have studio premises.
If you keep computerised records of the personal details of individuals, you may need to register with the Information Commissioner's Office. You may also need to know the rules for the protection of children, and the rights of police officers under terrorism laws, which state they can view images in limited circumstances, but don't have the right to delete anything.
Street photography can potentially cause issues. You're generally OK to photograph people and buildings in public places without permission, but there can be a number of pitfalls.
These include areas which appear to be public, actually being privately owned, or if photographs of people are used for commercial use rather than journalism or art (in which case it's recommended to get them to sign a model release form). You also need to be careful around law regarding invasion of privacy, and data protection.
More resources and support for photographers
Researching other freelance careers? Why not check out our other guides:
And you can get support and help if you're starting out with self-employment, or still in the early stages of building your career, with the IPSE Incubator. The 12-month programme is currently free with IPSE membership, and includes advice, events, webinars, networking and more, tailored to anyone just beginning their freelance business.