Some of the most iconic statements and messages in human history gained their importance from the precise combination of visuals and text. Find out how to become a freelance graphic designer and learn how to inspire people to pay attention to your work.
Graphic design covers a whole range of disciplines, including web design, but the ultimate aim is to clearly communicate with anyone that comes across it. Whether a client needs a logo that reinforces their business values, infographics for a social media campaign or a printed advert, it all falls to graphic designers to deliver.
Contents:
What is graphic design?
The field of graphic design is constantly adapting and evolving, but essentially, it's composing and arranging the visual elements of a project. This could be creating physical packaging for a product, commercial work including advertising and logos, or illustrating information (for example, the London Underground map first sketched in 1931 by technical draughtsman Harry Beck). Graphic design involves understanding of the needs of your client, and how to reach the desired audience in an effective way, using the principles and rules of visual communication.
Some of the most common areas of graphic design include;
Brand design: Logos, letterheads other assets, or creating guidelines.
Marketing: Advertising, posters, digital and physical assets, emails and newsletters.
Web design: Creating websites and individual pages or elements – we've previously looked in detail at how to become a freelance web designer.
Illustration design Creating visual elements for books, products and merchandise, or other uses – we've also covered how to become a freelance illustrator in a dedicated guide.
Type design: Focused on creating or choosing typography, typefaces and fonts.
Infographic design: Representing data and information visually, including videos or interactive experiences.
Textile and surface design: Working on products including fabrics, wallpapers, carpets or furniture.
Products and packaging: Balancing the need to stand out and appeal to the right consumers, and also including any required information.
Editorial design: Guidelines, layouts and design for books, magazines, newspapers and digital publications which balance appearance with readability.
Signage: From promoting businesses to giving directions, or health and safety information, signs are a vital part of our environment
When a movie poster, advertising hoarding or magazine article catches your eye, that's an example of good graphic design in action. Particularly if it encourages you to book a cinema ticket, find out more about a product or read more about a subject. It could be down to the colours, shapes or textures used, or techniques including balance, contrast or proportion.
Along with design, fields such as user experience and psychology also play a part. And while crowdsourcing and artificial intelligence have become increasingly used for practical graphic design applications, the importance of strategy has evolved as an essential part of the process.
One of the big benefits of becoming a freelance graphic designer is that you're able to move into different roles in the future, whether that's down to your personal preferences or the demand for specialist skills, whether that's in user experience, motion design, or conceptual art.
What skills, qualifications or experience do you need?
It's entirely possible to become a successful freelance graphic designer without a degree or formal qualifications. If you can attract enough clients from a strong portfolio, whether that's from existing contacts or networking and promoting yourself, you can rely on self-learning to evolve your skills and abilities.
But having recognised proof of your knowledge can help you to secure projects, especially when you're just starting out. Options include art and design courses at school, or pursuing further education including a degree or Masters in graphic design. This allows you to focus on learning and understanding the broad range of skills, techniques and concepts. And distance or remote courses are increasingly offered by a range of bodies.
Alternatively, you can learn through a variety of free courses available online from bodies including the California Institute of Arts, or companies including Canva, Dribbble and Skillshare, before moving onto more in-depth specialist tutorials. Various companies and organisations offer credentials and certification in specific areas of design, such as the Google UX Design Certificate, or Adobe, which covers a range of qualifications using their products.
It's important to check the details of a course or certification to ensure it will be helpful in your career, whether you're investing time or money. With so many high-quality options available, it makes sense to take your time and research the tuition which is most suitable for you.
If you prefer a more practical approach, then applying for an apprenticeship or work experience will help you earn an income while developing your skills (although you can always start freelancing whilst studying graphic design). The minimum requirements to become an apprentice are usually five GCSE grades at 9 to 4 (A* to C) or equivalent, and you can find more information via the National Careers Service.
Whichever route you follow to become a freelance graphic designer, there are certain skills you'll need regardless. These include:
Creativity
An understanding of design rules and principles, even if you choose to break them on purpose
Good communication skills for working with clients, collaborators and potentially end users
Delivering presentations
Ideation (generating and developing new ideas through research and development)
Knowledge of design technology and tools
Strategic thinking (brainstorming, developing ideas and evaluating designs)
Problem solving
Time management
Typography
Print design
Web design (including UI and UX design, potentially alongside coding and popular content management systems)
Attention to detail
General freelancing skills, including budgeting, negotiating rates and organisation are also useful to support a successful career. You can find more help and support on many of these areas offered by IPSE.
Other organisations with useful resources include the Design Business Association, the Chartered Society of Designers, and the International Society of Typographic Designers.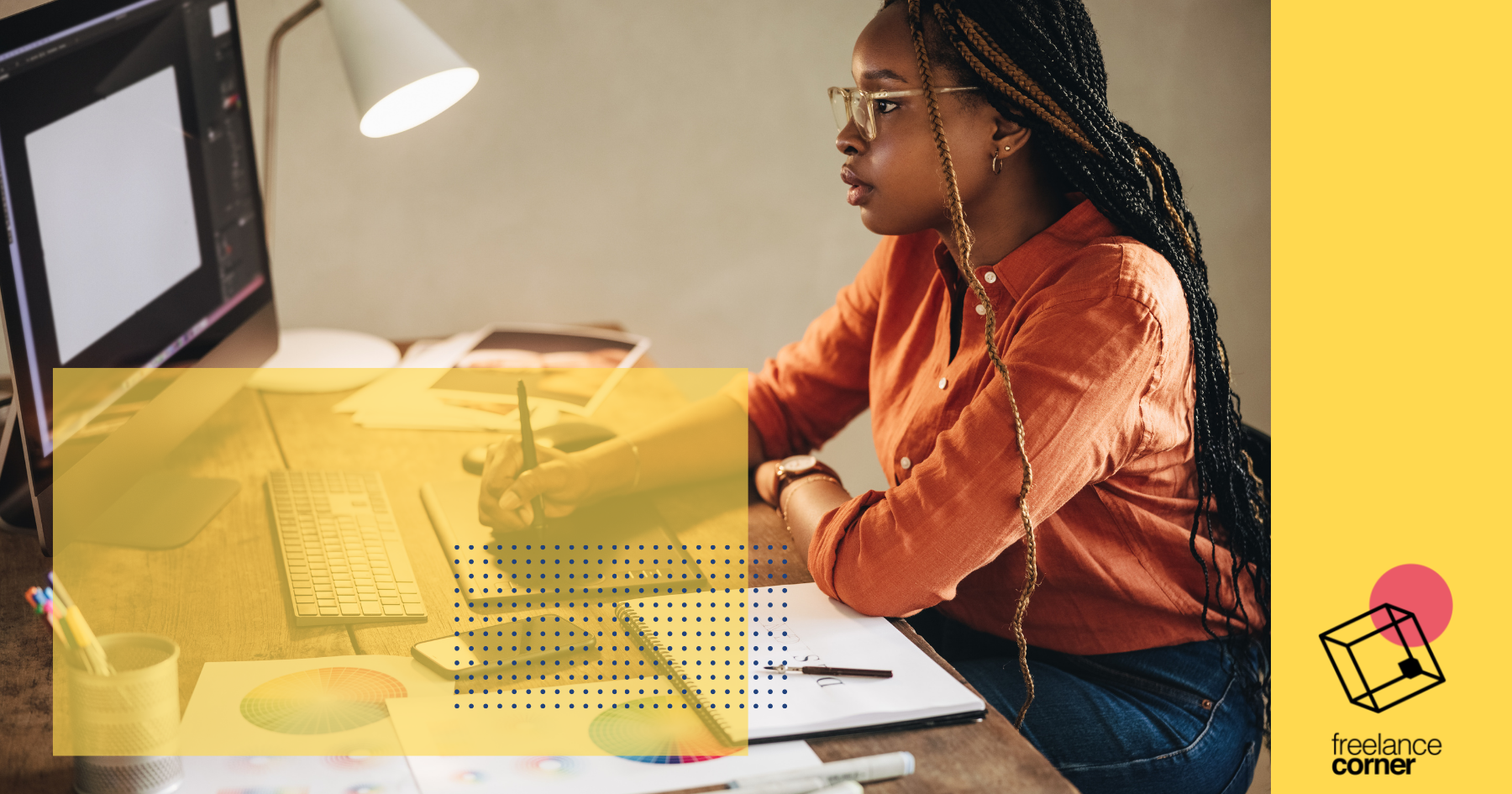 How much can freelance graphic designers earn?
Across such a broad and wide-ranging industry, it's hard to accurately predict what you might earn as a freelance graphic designer. If you're securing global brands as clients for major rebranding projects, your income is likely to be far more than if you're providing advertising and design work for small local businesses. Although there's a trade-off in the commitment and hours required in return.
As a rough guide, freelance graphic designer salaries in the UK are estimated at £37,572 (Glassdoor) and across all freelancer designers, at £42,926 (Indeed). This compares to employed graphic designers at around £27,000 (Talent.com) or £28,900 (Jobted). Freelance salaries are partly higher to compensate for the additional costs of self-employment, but it's also likely that the majority of freelance designers have already built-up experience employed in a similar role, so are likely to be above the typical starting salary of around £15,000 to £18,000.
Developing your business and portfolio can help you to secure better rates, along with taking on larger projects for higher profile clients. As a designer, it's also possible to supplement your income in various ways, including selling your original artwork or products to customers, teaching, or creating your own guides and tools to help others.
What equipment and software do freelance graphic designers need?
Each individual freelance graphic designer will have their own preferences when it comes to hardware and the tools they use for their work. While the world has increasingly moved to digital tools, many illustrators and other designers may still work with paints and brushes.
But in general, you'll probably find the following useful:
Equipment:
Pens and pencils, notepads and sketchbooks: Essential for capturing ideas quickly when inspiration hits, and you may not have your computer or smartphone nearby.
A laptop or desktop computer with a high-definition monitor: The stereotypical designer will have a high-end Apple laptop or desktop with an enormous high-end monitor. But while it's possible to opt for a PC instead, it's the screen that's most important.
External hard drives: For storing and backing up important files. Ideally for security and safety, it's worth having multiple backups, duplicated across physical and cloud storage.
Graphics tablet and stylus: Whether it's an iPad Pro or an example from the Wacom range.
Pantone Swatch Book: Essential for understanding how colours will look when printed.
Digital Camera: A high quality DSLR is a must-have for photography and video work.
Monitor Calibrator: Ensure your on-screen colours are accurate.
Software
There's a huge, and ever-expanding list of design software and tools available, ranging from free and open-source options to industry-standard solutions and beyond. It's entirely possible to build a career on low cost or free software, but the trade-off is generally a little extra time and effort to ensure your output is accessible by clients.
In addition to design tools, it's good to have a quality anti-virus solution in place, along with invoicing and time or project management software.
Some of the most common graphic design tools include Adobe Photoshop Illustrator and InDesign, Sketch, GIMP, CorelDRAW Graphics, Canva, Pixlr, Blender, and more. For specific recommendations, take a look at graphic design websites and blogs, or ask other freelancers, to find the software most suited to the tasks you're focused on.
While you may prefer to work with more complex design tools, it's useful to understand solutions like Canva, for example, which may allow you to create templates and resources for clients to use on an ongoing basis.
It's also worth investigating design market places such as DesignCuts and Creative Market, Google Fonts, and stock photo resources. The market places allow you to buy, or potentially sell, assets such as fonts, vector graphics, templates and more.
The important thing is to understand the software you choose, using tutorials, Youtube videos, courses or by asking for help from the freelance community. Some design projects will specify the tools you use, most commonly, Adobe Photoshop, Illustrator and InDesign.
Finding clients as a freelance graphic designer
If you're an established freelance graphic designer, then it's important to update your portfolio, and to encourage reviews and referrals from clients as having too many enquiries will always be better than not getting enough. And you can always pass on excess work to other freelancers, or take on support to help you fulfil your workload.
But if you're starting out as a freelance graphic designer from scratch, getting your first clients can be tricky. Along with internships, work experience and apprenticeships, you could also volunteer for a charity or non-profit cause. With any unpaid work, it's important not to let anyone take advantage of you, so be clear about what you're providing, and why.
An alternative is to start designing mock-ups for fictitious clients, or starting your own side projects. Make sure that if you're creating your own briefs for real or imaginary businesses that you're clear about disclosing that fact wherever your work is being shared. There's nothing to stop you from showing how you might approach a redesign of a well-known brand, but you don't want clients thinking you were hired by them unless it's true.
In addition to sharing your strongest work on your own website or social media profiles, it can be worth also displaying it on dedicated sites such as Dribbble and Behance (also good sites for inspiration). Depending on your work, entering relevant awards can be a valuable way to get noticed (for example the D&AD Awards for commercial creativity)
And make sure you're getting to know other freelancers, whether it's offline, or via communities such as our Creative Freelancers UK. You might find work referrals and potential collaborators, particularly in related fields such as copywriting.
Alongside general freelancing and job boards, there are more specialist sites for design roles, which include:
More resources and support to become a freelance graphic designer
Researching other freelance careers? Why not check out our other guides:
And you can get support and help if you're starting out with self-employment, or still in the early stages of building your career, with the IPSE Incubator. The 12-month programme is currently free with IPSE membership, and includes advice, events, webinars, networking and more, tailored to anyone just beginning their freelance business.