If you've ever dreamed of being self-employed, have you looked at how to become a freelance hair stylist? There are lots of reasons why people might want to become a hairdresser or barber, and working for yourself is a core part of the industry.
You might associate freelance hairdressers with home visits or mobile services, but a lot of salons rent individual chairs to stylists. So, you might have been chatting with a successful freelancer on a monthly basis without even realising! And it means that there's a recognised progression and acceptance for the self-employed.
Why become a freelance hair stylist?
There are various reasons why hairdressing might be the right career for you. It's a great profession for anyone who enjoys being social and interacting with clients and colleagues. And you're able to choose whether that's one-on-one, or a larger group setting in a salon.
It also rewards creativity and hand-to-eye coordination along with your interpersonal skills. While most people will be looking for a straightforward hairstyle, there are still opportunities to add a little bit of your own flair. And with trends constantly changing, and opportunities to build a reputation, or enter competitions, with more exotic hair creations, it's really down to you to set your direction.
You may decide you want to offer additional services, such as nail and skin care. Or specialise in beards and facial hair as a barber. A range of complimentary careers exist around hairdressing, whether that's marketing, business management, or becoming a social media influencer.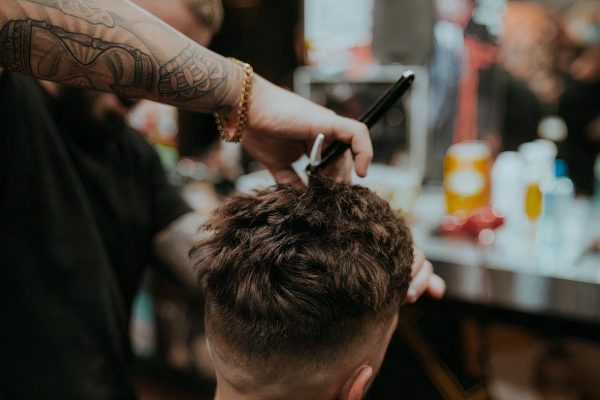 And despite the recent disruption of a global pandemic, hairdressing is constantly in demand around the world. The majority of people would prefer to have a professional style their hair rather than attempting it themselves, and it can be a much-needed luxury and social activity for many. Whether you want to travel the world or stay in your current location, there will always be someone in need of a haircut and willing to hire you for it.
On top of the creativity and variety, it can be a well-paid freelance career if you build a good reputation and client base. Or become in-demand for fashion or film work, for example. You might choose to stay working on your own, or expand your self-employed business by starting your own salon.
It's also a good option if you value flexibility and setting your own hours. While many freelancers are limited by the demands of their clients, a freelance hair stylist can set their own hours and just stick to them, whether that's full or part-time, or split between home, mobile and salon work.
What could your career look like?
After deciding whether to become a freelance hair stylist on a part or full-time basis, you have options about where you might want to work:
Home hairdressing means you won't have to travel to work, but does mean clients will know where you're located. And involves legal and insurance considerations if you're using a property which you own, or rent, for a business.
Mobile hairdressing means travelling to clients, but it maintains some of your own privacy. And while it adds transport costs, you won't be paying to rent a chair in a salon. You'll have more flexibility about how you work, and the opportunity to build much closer relationships with your clients, particularly if they're unable to get out to a salon.
Renting a chair in a salon: Many existing hairdressers will let you rent a chair on a daily, weekly or monthly basis. This means your start-up costs will be low, and you'll benefit from being part of an established business, including walk-in customers. But it does mean paying either a fixed fee or commission on all the work you do.
Each job and client will be different, but typically more junior hairdressers and stylists will be responsible for shampoos and conditioning, cutting simple styles, and making sure everything is clean, tidy and well-stocked. As you become more senior, you'll spend more time talking to clients and suggesting ideas, cutting and styling, and giving advice.
It's important not to underestimate the time it can take to become a senior stylist, who may have 10-20 years of experience before they know enough to cover all the styles and treatments required.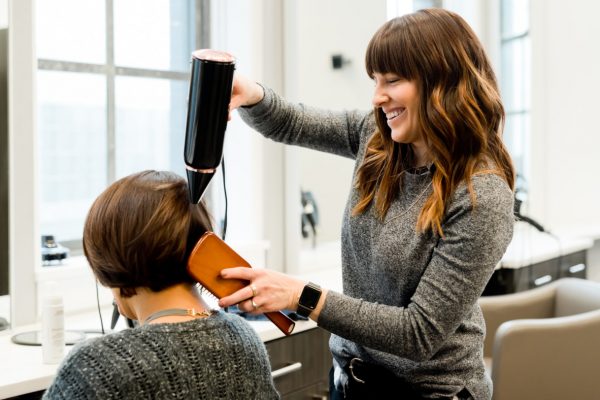 Your daily routine may be vastly different if you choose to work in industries that require hair stylists, such as fashion, film and television, celebrity, weddings or events. If you become a freelance celebrity hair stylist, it might involve travelling around the world with your client rather than turning up to a salon every day.
Alternatively, you might decide to donate some of your time or money to a number of charity projects within the hair and beauty industry. For example, for example, Haircuts4Homeless or Barbersride.
What skills and qualifications do freelance hair stylists need?
To be successful as a freelance hairdresser or barber, you'll obviously need to be able to work well with your hands, and do a decent job of cutting and styling without inflicting any style disasters or injuries on your clients.
But beyond that, it's also important to have good communication and customer service skills to make sure clients and contacts are happy and refer new business to you. It's useful to be a good listener and able to pay attention to detail, and to be patient and remain calm even in stressful situations.
Education and qualifications are important to build your skills, and also highlight them to potential clients. The most common route for many hairdressers is to build their knowledge and experience through a National Vocational Qualification (NVQ).
NVQs are carried out while you're already working, often as part of an apprenticeship or entry-level role. You don't need any prior education to get started, and they involve on-the-job tasks rather than exams. In hairdressing, you'll need to progress through the basic introduction of Level 1 to gain a Level 2, which is generally considered a minimum for salon hair stylists. And if you want to go further, Level 3 and 4 offer more detailed technical and professional skills.
If you want to go further, after completing an NVQ it's possible to complete a Higher National Certificate (HNC), or a Higher National Diploma (HND), which are equivalent to the first or second year of a typical three-year university degree. Alternatively, you could pursue a full BA Hons degree.
In addition to these core qualifications, a range of shorter courses are available to get more knowledge and experience in specific areas. Obviously, it's important to check if any training is accredited and whether it's by a respected association or organisation, before paying for potentially expensive courses.
Equipment needed by freelance hair stylists
When you're looking at how to become a freelance hair stylist, it's important to understand the costs involved. The main initial outlay will be on equipment, and a typical list will include
Scissors
Hairdryer
Cape
Curling tongs
Straighteners
Hair brushes and combs
Hair clips and pins
Hair spray, gel and moisturiser
Rollers
Hair donuts, elastic bands and other accessories
Clippers and trimmers for male hairdressing
If you're investing in professional equipment, then it's a good idea to also cover any theft or loss with suitable insurance. You will also need Public and Products Liability insurance, which offers cover for claims made by members of the public for injury or damage to them, or their property. And make sure you check if any additional services are covered if you decide to offer them, including treatments for nails, eyebrows, or waxing, for example.
How much can you earn as a freelance hair stylist?
What you earn as a freelance hairdresser, barber or stylist will depend a lot on your experience, reputation, and your location. Obviously, it's likely you'll make a lot more as an in-demand celebrity consultant in London, compared to starting out as a new hairdresser in a rural area. But there are exceptions to every rule.
As a broad guide, the typical salary for a hair stylist in the UK is estimated at £22,953 by Indeed, £19,000 by TotalJobs, and £23,470 by Talent.com. And the National Careers Service puts earnings between £14,000 starting out and £30,000 for an experienced stylist, based on a typical 37 to 40-hour week. And as a rough estimate, if you progress to owning a salon yourself, the earnings could be around £100,000 per year.
The Broadcasting, Entertainment, Communications and Theatre Union (BECTU) have rate cards for hair stylists in the fashion industry of between £150-£475 per day, or between £6.52 and £30.13 per hour depending on the budget of a television or film production.
You're able to choose whether you set or negotiate flat rates for clients, or charge an hourly fee depending on the type of work you're performing. You might want to offer a set price for standard haircuts, and an hourly rate for more complex consultations, for example.
The most important thing is to make sure your freelancing is profitable after taking into consideration the cost of equipment, insurance, travel, and your time. If you need support in setting rates or other areas of your freelance business, then take a look at the range of advice supplied by IPSE, along with the insurance discounts and other savings available to members.
More resources and support to become a freelance hair stylist
Researching other freelance careers? Why not check out our other guides:
And you can get support and help if you're starting out with self-employment, or still in the early stages of building your career, with the IPSE Incubator. The 12-month programme is currently free with IPSE membership. And it includes advice, events, webinars, networking and more, tailored to anyone just beginning their freelance business.