If you have a natural affinity for lists, schedules and organisation, why not turn it into a lucrative self-employed career? Find out how to become a freelance project manager and become sought after by businesses needing help with delivering their products and services.
From initial planning to final results, good project management can have a huge impact into the success or failure of new initiatives, or overhauling the way a business currently operates. So, if you enjoy bringing order to chaos, working under pressure, and taking care of potential problems, then it could be a great choice for your self-employed career.
The majority of freelance project managers will already have some experience and qualifications in the field, and will be familiar with methodologies including agile and waterfall approaches, along with common software and data interpretation. But it's not impossible to find success as a self-taught project manager if you can secure client work based on your portfolio.
Why become a freelance project manager?
With many people switching to self-employment after building up work experience in the industry, one attraction of freelancing is the ability to work with a wide variety of clients. You can choose if you prefer helping small businesses or operating at a large enterprise level. Or whether you want to focus on project management for charities and non-profits, or in particular verticals like retail, software, entertainment etc.
Another incentive is that you can decide which approaches and tools you want to use. If you've always wanted to focus on agile project management for mobile app development, and only want to use Trello boards to organise everything, then that's your choice as long as you can find enough clients.
Although collaboration is an important aspect of project management, you also get greater freedom in choosing how you want to interact, the hours you work, and your main location. Constant improvements in virtual meeting tools and project management software mean that an increasing number of tasks can be handled entirely remotely. And some businesses operate entirely in this way, for example Automattic (the company behind WordPress), Shopify, and Atlassian (who produce tools for project management including Trello and Jira).
That flexibility opens up project management opportunities to people who might prefer to work part-time, manage multiple clients at once, or need to schedule less conventional hours so they can operate around other commitments.
What do freelance project managers do?
As a freelancer, you may be brought in at any stage of a project. This could be to salvage something which is running off course, or simply because clients haven't realised that they needed your help earlier in the process. But project management can run across a range of responsibilities including:
Budget planning and management
Resource planning and management
Scheduling and time management
Team management
Identifying and mitigating risks and problems
Documenting requirements and deliverables
Monitoring progress and reporting back to teams and key stakeholders
Auditing results and suggesting improvements
This often means you're a key route of communication between management and employees, or clients and other freelancers. And keeping everything going can often be compared to trying to herd cats, or spinning multiple plates at once. But it also means that it's a constantly in-demand job role if you're able to achieve good results.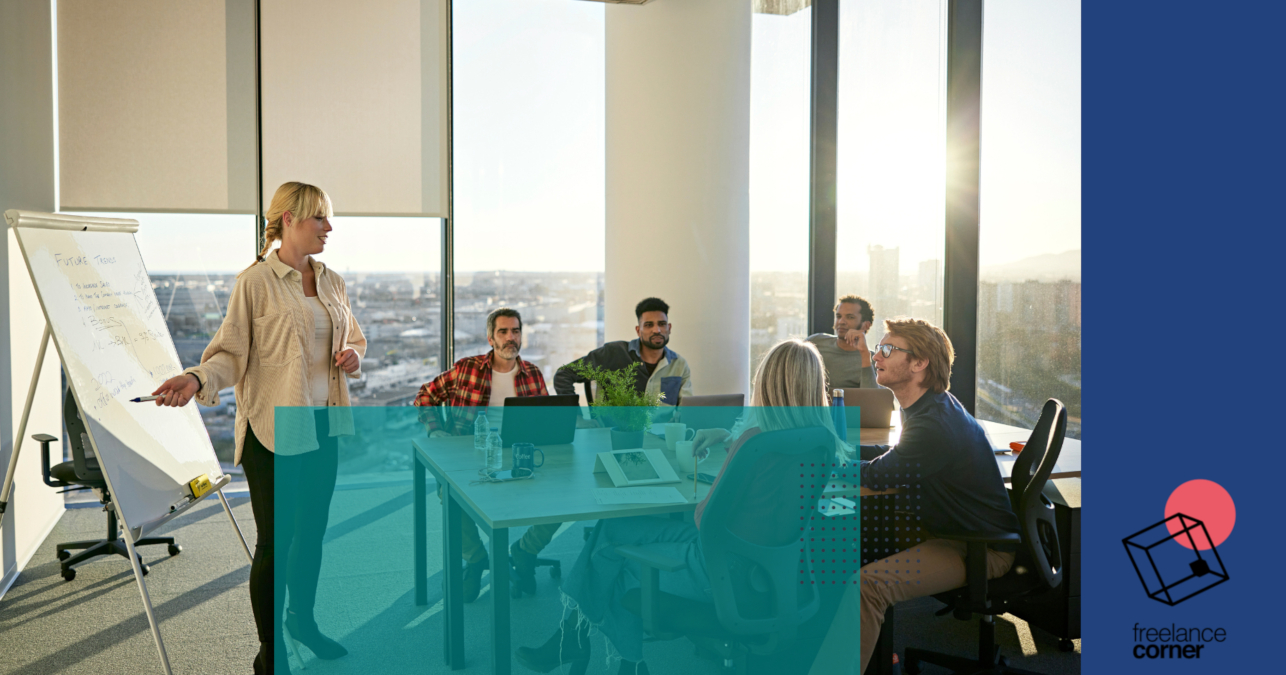 What skills and qualifications do you need?
Most successful self-employed project managers will have a mixture of academic or industry qualifications alongside previous experience working in a similar role. This might be as an assistant or junior position, but clients will want to see proof of your skills before trusting you with what may be business-critical projects.
Degrees and postgraduate qualifications are offered by a range of universities. Alternatively, you can study for a project management certification. It's important that any courses or training are recognised by clients and industry bodies such as the Association for Project Management and Project Management Institute.
Some industry certification will need renewing after a set time period, so make sure you understand if you'll need to retake courses or update your details in the future to retain your qualifications.
It's also useful to speak to other project managers about the training which has been most valuable in their careers, and to ask clients what they look for when hiring freelance support. For example, PRINCE2 (Projects IN Controlled Environments) is a method originally developed as a UK government standard with courses certified by Axelos, but other international standards include PMP, HERMES or PM². So, it's important to understand which training and knowledge will be most suitable for the majority of clients you'll be dealing with.
But all project managers need a certain group of core skills, regardless of the type of client or work they pursue.
Good organisation
Strong interpersonal skills
Great communication
Ability to work under pressure
Attention to detail
Leadership and management skills
Budgeting and financial skills
Problem solving and decision making
Most of these skills will also help you with the self-employment side of your career. As a freelancer, you'll need to be motivated to find work, build your network and contacts, and ensure you're creating and sharing a strong portfolio of previous successes to attract new clients.
Common project management terms, tools and software
If you're just starting to learn about project management, then you might be overwhelmed by the number of specialist terms and phrases used in the industry. But through training or experience, you'll soon become familiar with the ones you need on a regular basis.
Some of the initial terms to start learning about before you decide on a career path include;
Waterfall: A traditional project development approach where everything moves systematically from one phase to the next.
Agile: An incremental approach which breaks tasks into small cycles, known as 'iterations', and then prioritised for urgency and importance, with regular reviews and changes.
Scrum: A particular approach to agile project management with small teams working on two-week cycles.
Methodologies: There are a variety of systems for project management, whether they follow an agile, waterfall or alternative approach. Different methodologies tend to be more popular in certain industries (For instance, Agile and Scrum are often favoured in software and technology companies). Some will also be explicitly required if you're working for specific organisations, such as governments.
Milestones: Specific major events used as a reference point for progress.
Dependencies: A relationship between one activity, and a requirement for something else to be started or finished before it can begin, or end.
Stakeholders: Individuals with a direct, or indirect, interest in a project.
Gantt Chart: Graphs used to visualise a project schedule with milestones, dependencies and other factors, commonly used in project management.
Kanban: This approach uses a virtual pinboard with moveable cards to show project tasks and progress
Fortunately, there's a wide body of work online or in print to go into the smallest detail on every aspect of project management. And it's important to devote time to regularly check for industry updates and changes which you might need to implement in your work.
For example, there's a long and ever-changing list of project management software and tools available. Some of the most common include;
Asana
Basecamp
JIRA
Teamwork PM
Zoho Projects
Microsoft Project Management Software
Trello
GanttPro
Teamwork
LiquidPlanner
TeamGantt
ClickUp
Different tools are more suitable for specific methodologies, and for different sizes of business, along with your own personal preferences. But it's useful to at least be aware of some of the alternatives, and when they may be more suitable for a particular project.
For example, you may use a comprehensive project management solution like LiquidPlanner when you're working with a large enterprise client, but switch to a Kanban option like Trello if you take on a small business with only three or four employees and more of a pure task focus.
How much can you earn as a freelance project manager?
Any suggested figures are provided for basic guidance only, as the income you can achieve by becoming self-employed will vary a lot depending on your clients, the size of projects you take on, current demand for freelance project managers, and other factors including location, any industry specialisation, or simply the quality of your network and referrals.
The average salary for a freelance project manager in the UK is offered as £52,144 (Glassdoor). Freelancing platform YunoJuno reported the average day rate in 2019 was £335, with figures varying between £250 to £350 per day.
This compares with the typical income for project managers including those in full-time employment, which can be around £44,815 (Indeed), £48,304 (Talent.com) or £54,657 (Totaljobs).
If you're comparing freelancing incomes against employed wages, it's important to remember that not every self-employed professional will be working full-time. And that they may typically be more qualified and experienced before starting to work for themselves, as the starting salaries for project managers tend to be between £20,000 and £35,000.
When you become a freelance project manager, it's important to budget for business costs and expenses. You can find useful advice on ensuring your self-employed financial wellbeing via the IPSE website, along with useful discounts on insurance, contract reviews and other useful savings for members.
More support and resources to become a freelance project manager
Researching other freelance careers? Why not check out our other guides:
And you can get support and help if you're starting out with self-employment, or still in the early stages of building your career, with the IPSE Incubator. The 12-month programme is currently free with IPSE membership, and includes advice, events, webinars, networking and more, tailored to anyone just beginning their freelance business.