Love working in photography and become self-employed, but not sure you want to be a freelance photographer or photojournalist? Or need to increase your income in a flexible way that allows you to work from home more often? Then find out how to become a freelance photo editor.
There's consistent demand for retouching and editing skills in media and advertising, and from both photographers and their clients. The rise of digital photography means more possibilities than ever for post-production changes, whether it's correcting an issue, or adding something creative.
And becoming a freelance photo editor requires a relatively small investment in equipment, particularly when compared to starting from scratch as a photographer.
What does a freelance photo editor do?
Depending on your clients, a typical freelance photo editor may be responsible for reviewing photos and selecting the best, or most suitable examples, for a project or portfolio. And they'll then be responsible for editing the raw images to produce the right results, whether that's retouching mistakes, blemishes or other issues, or adding some creative special effects.
If you're working for a publication or photographer, you may be advising on the editorial direction of a collection of images. Or you might be asked for advice on future photo shoots. And you may need to select the best examples from hundreds of possibilities, which includes understanding what editing can achieve.
Some of the basic photo editing tasks include cropping, straightening and resizing, adding or removing elements, and adjusting levels including the white balance, lighting and colour. Good photo editors can transform an average shot into something much more interesting and exciting.
While many photographers and photojournalists will know how to edit their own work, it can take hours to get a single image looking just right. Which means many people choose to outsource this work where possible.
And you might also work for people outside the photography industry, restoring old photos, tweaking wedding pictures, or making other alterations.
Photo editors working for photographers and agencies are sometimes also referred to as private photo editors. While 'picture editor' tends to refer more to those responsible for selecting images to be published in books, magazines or newspapers.
What equipment do photo editors need?
While photographers might require cases full of cameras, lenses and other equipment, the basics for a photo editor will be a computer and some editing software.
Obviously, you can spend a potentially infinite amount on a laptop or desktop computer for image editing, but the minimum specifications will be set by the software you're going to use.
There are a lot of options available for photo editing software capable of professional results, from free open-source solutions to industry standard paid tools from Adobe. These include:
Your choice of photo editing software will depend on your budget, the type of work you're intending to perform, and any features which are particularly valuable for you. If you're starting out, or even already working as a photo editor, the free GIMP (GNU Image Manipulation Program) is a comprehensive tool which can do many of the tasks of paid photo editing software, although the menus and user interface aren't quite as polished or easy to use.
To ensure you're seeing an accurate representation of the images you're working with, and able to work comfortably on tiny details, it's worth investing in a quality monitor with good colour accuracy, and using a monitor calibrator regularly. Datacolor and Calibrite both offer a range of calibrators at various price points which mean you can be sure you're set up correctly.
If you're spending hours in a home office, then it's important for your comfort and health to create a space which is ergonomic and enables you to work effectively. This doesn't always have to be expensive, but good desks, chairs and input devices like mice and keyboards will help you to be more precise and prevent repetitive strain injuries. If you're looking for cost-effective solutions, browse our guide to the best budget home office upgrades.
Finally, you'll also need ways to upload and store images. These include a scanner if you work with physical photos, and both physical and online file storage. Removal hard drives will ensure you can keep client work backed up locally, and online options including Dropbox, Google Drive, IDrive, Smugmug, Flickr, 500px and more will allow clients to view and download your work.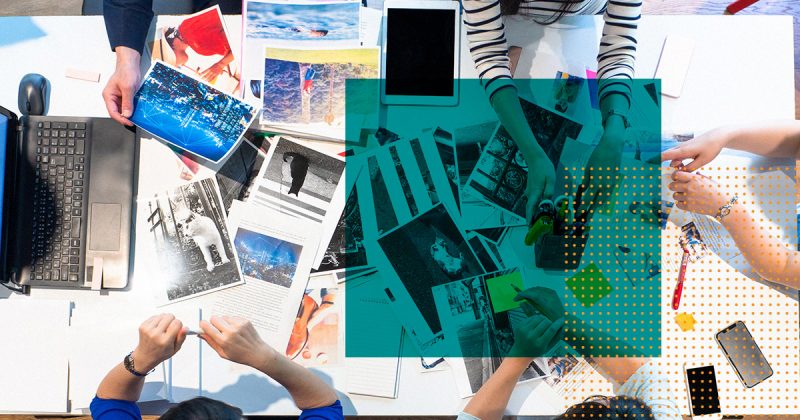 What skills and qualifications do freelance photo editors need?
The obvious answer is that you'll need to be good at editing photos to earn a reasonable living as a freelance photo editor. This means understanding the software you're using, and the range of techniques available to you.
You don't have to be a photographer, but it can be massively helpful, especially if you're guiding someone else on capturing the right images for a particular project. Knowing what's possible can save time for everyone involved, and helps the collaboration on both sides.
Creativity is obviously hugely important, but you'll also need to be organised and capable of delivery client work reliably.  It's much easier to sustain a self-employed business by providing good work which meets client expectations and deadlines than amazing projects after delays and missed deadlines.
You don't need any specific academic or professional qualifications to offer services as a freelance photo editor, but they can definitely help if you're starting out. A degree in photography, digital media or visual arts will reassure clients of your abilities, and also provide you with a good understanding of the medium. And a Masters Degree will take this even further, with various UK universities also offering study in-person or online.
It's easy to find a huge range of tutorials, courses and certification for specific photo editing software. With any paid study or exams, it's important to check the provider, the content of the course, and whether it's widely recognised. For example, becoming an Adobe Certified Professional for Photoshop, which can be displayed on your website, CV and social media to reassure potential clients of your skills.
The value you'll get will depend on your target clients. Someone looking for minor corrections to a personal photo will be less likely to check your formal education than a large media or advertising client working on a million-pound ad campaign.
It's still possible to become a very successful photo editor without any professional training or qualifications, if you have an amazing portfolio of previous work, and enough relevant previous experience.
This can come from personal projects, working for friends and family, or for an agency while you're establishing your own business.
How much can a freelance photo editor earn?
It's always difficult to estimate the potential self-employed income for anyone relying on securing clients and projects. Any figures given are simply ballparks to give an idea of what's possible, but it's possible to earn much more (or less) depending on demand for your services.
Freelance photo editors aren't listed separately, but across all the salaries submitted, Indeed put the average annual salary at £19,440, Payscale estimated it at £26,891 and Glassdoor offered a figure of £30,104.
Generally, you'll find freelance incomes are reported as higher than comparable employed staff, due to the fact that the self-employed have to cover their own costs, equipment, sick days and holidays. But you're also able to choose the number of hours you work each day or week, and how you prefer to charge for your efforts.
You'll find different freelance photo editors will choose to charge per image, per project or on an hourly rate. Or they may switch between all three depending on the tasks involved, as making quick minor edits will lend itself to a per item invoice, but working on a single key image for hours would be more suitable for a time-based or project free.
How secure clients as a freelance photo editor?
Whether or not you've already studied or taken on formal training, the first step in securing a good number of clients as a freelance photo editor is to build your knowledge and experience. This enables you to deliver projects reliably, and also to avoid basic mistakes which can damage your reputation.
If you're just starting out, then you can work on personal photos, or offer to help family and friends to not only build your expertise, but also your portfolio, which can be shared online via your own website and elsewhere. Try to keep this updated to really show your very best work, and include 'before' and 'after' samples to show how much you can improve or alter images.
You might be willing to work on any type of photo, but concentrating on a niche can help you find clients and useful contacts. For example, if you want to focus on editing wedding pictures, you can tailor your portfolio, website and any online profiles to highlight this. And you can also contact every local wedding photographer, venue, or other relevant people to build a specific network for client referrals.
Another approach is to turn your services into bespoke products, which can target particular tasks in photography, or within a specific niche. For example, colour grading, restoring or colourisation for older photos, or removing items. This can make it easier to price your services on freelance listing sites like Fiverr or Upwork.  And by using the phrases people are actively searching for, you'll automatically do a better job of search engine optimisation.
Building a social media profile can help you connect with other photography professionals, as well as potentially reaching clients. Image-based networks like Instagram or Flickr are obvious choices, but you should also look at photography forums, or those specific to your target niche. If you want to work mainly on automotive photos, for example, then build contacts in the press office of manufacturers, or with magazine editors and staff.
And when you've completed a project, it's important to secure testimonials and referrals. Online ratings and reviews will inspire a lot of trust in you from potential clients, while word-of-mouth referrals can be the most valuable source of new work for any freelance business. Especially when the photos you've edited are being publicly displayed and shared.
More resources and support to become a freelance photo editor
Researching other freelance careers? Why not check out our other guides:
And you can get support and help if you're starting out with self-employment, or still in the early stages of building your career, with the IPSE Incubator. The 12-month programme is currently free with IPSE membership, and includes advice, events, webinars, networking and more, tailored to anyone just beginning their freelance business.