If you're an animal lover and looking for a self-employed career, then why not find out how to become a freelance dog groomer to see if it might be the right job for you.
We've previously looked at hair stylists and makeup artists for humans, but helping our four-legged friends look and feel their best could be a better option if you want to avoid having to make small talk with clients all day. And you'll also be contributing to better animal welfare by helping to prevent infections, matted hair, and other issues.
The advantage of being self-employed is that you can set your own hours and choose your work location, whether that's visiting dog owners at their homes or setting up your own pet salon. And it means there's the potential to earn far more than if you're employed by someone else.
What does a freelance dog groomer actually do?
What skills or qualifications do you need for dog grooming?
What equipment and resources do you need to invest in?
How much can you earn as a freelance dog groomer?
Finding clients as a freelance dog groomer
More resources and support to become a freelance dog groomer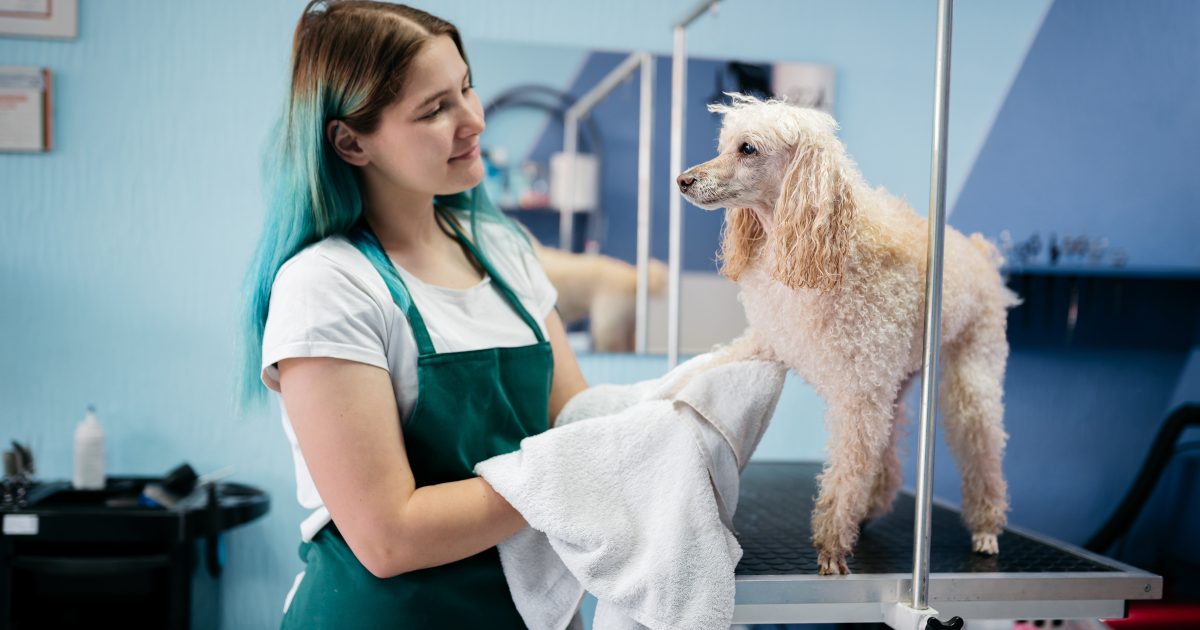 What does a freelance dog groomer actually do?
There's more to dog grooming than bathing, drying and brushing animals. In addition to those tasks, it's important to talk with clients about any specific requirements or help issues, carry out basic health checks, provide good advice to owners, and keep good records on each pet.
Along with trimming and styling the coat of each dog, you may also provide other services such as nail clipping, ear cleaning and teeth brushing. So, your focus may change for each job, switching between prioritising health and hygiene, or looks and style.
This is particularly true if you're switching between grooming pets, or show dogs which will be competing at events like Crufts. To be show ready, dogs will generally be bathed and groomed at least every four to six weeks, although it does differ between different breeds.
As a business owner, you're free to decide whether you want to visit clients and their pets at their home, or set up your own dog salon at a location you choose.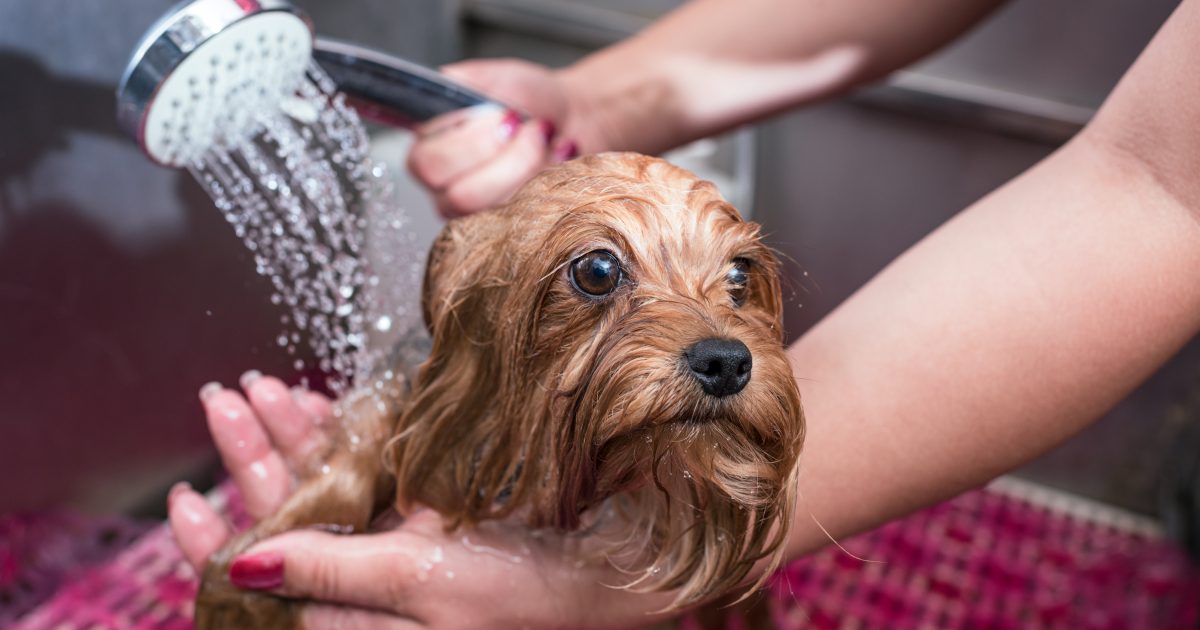 What skills or qualifications do you need for dog grooming?
There are no formal qualifications required to offer dog grooming services, but completing recognised courses will help to reassure potential clients that you're competent. This can be especially helpful if you haven't built up a portfolio of previous work.
City & Guilds provide a Level 2 Certificate for Dog Grooming Assistants, which is an introductory qualification, along with a Level 3 Certificate in Introductory Dog Grooming or Level 3 Diploma for Professional Dog Stylists. And these courses are also offered by other accredited organisations, such as The College of Animal Welfare or the National Pet College. A Level 4 Higher Professional Diploma in Dog Grooming is also offered by the iPET Network.
Alongside units covering canine care and styling, these courses also include how you manage a dog grooming business. But if you want more hands-on experience, then you might choose to do an apprenticeship or volunteer for an existing business or pet charity.
You can find volunteer opportunities at local pet salons or animal shelters, or via larger national charities such as the Dogs Trust and the RSPCA, who also offer apprenticeships.
Skills that you'll need to develop to become a successful freelance dog groomer include:
Good communication skills with clients and animals.
The ability to handle badly-behaved animals and stressful situations
Attention to detail, especially when checking animals for health issues
Practical bathing and grooming skills, include cutting hair, trimming nails and other tasks required.
Knowledge of the latest trends and techniques
You'll also need to build the skills required to manage your own business, from administrative tasks and tax returns to marketing and building up your client list. You can find lots of helpful advice on the IPSE website, whether you're new to self-employment or looking to grow your business, along with access to the 12-month Incubator programme for IPSE members.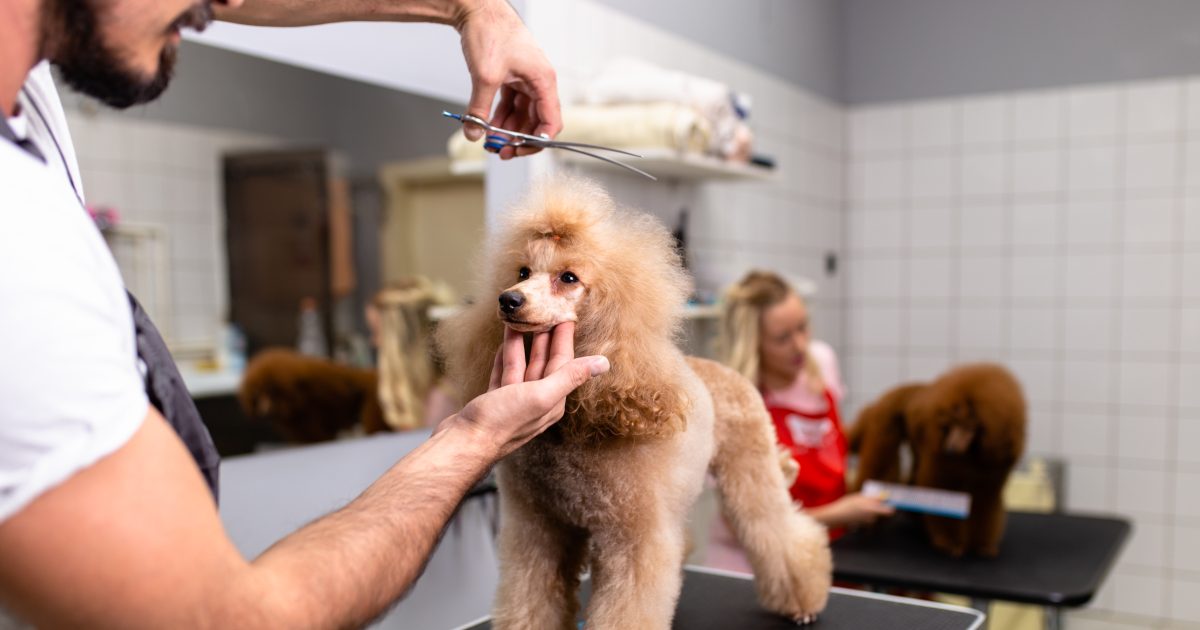 What equipment and resources do you need to invest in?
If you're starting from scratch, you'll need to invest in a range of equipment and tools for dog grooming, with obvious examples including clippers, scissors, combs, and brushes.
Depending on your work location, you may also need to invest in a bath, along with a dryer. And a grooming table. Other useful equipment will include nail clippers, tick removing tools, shampoo, towels, and clothing which is water and fur proof where possible.
You can find various lists and recommendations for the equipment you'll need online, or by asking existing dog groomers for advice on products and brands they recommend. But it's also important to invest in suitable insurance covering both public liability and professional indemnity, along with your equipment.
It's a good idea to set out a self-employed business plan and budget, which will help you identify other potential expenses such as advertising and marketing, along with getting your financial records and tax returns organised from the start.
How much can you earn as a freelance dog groomer?
With any self-employed career, your earnings can vary depending on location, experience, any special skills, or your ability to market yourself. Any figures offered are estimates or averages based on typical earnings.
As an employee, a dog groomer in the UK could expect to start out around £13,000 per year, rising to around £20,000 or more with experience. The average tends to be £23,000 (Talent.com).
The average hourly rate is quoted between £9 (Payscale), and £11.79 (Talent), but this will tend to be higher if you're self-employed, as you're able to set your own prices to match the lack of employer benefits such as sick leave or holiday pay.
While employed dog groomers will tend to maximise their income around £25,000 per year, if you're freelance or self-employed, there's no limit to your potential earnings, as you can expand your business with employees or franchise your operations as you build your brand. Or you may find yourself specialising in show-winners or celebrity pets.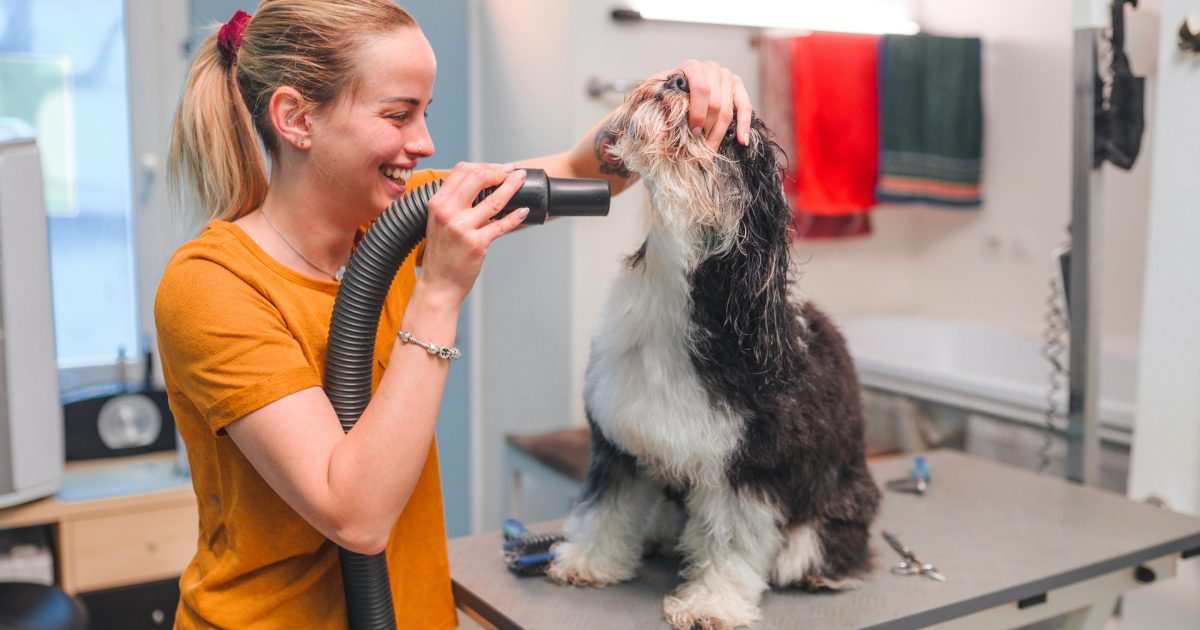 Finding clients as a freelance dog groomer
If you're starting a new business, then it's important to plan how you'll attract new clients over time to grow your income. Unless you already a solid reputation and experience from working for an established grooming salon, you'll need to reach out to find potential customers.
There are lots of marketing options that apply to any self-employed business, from advertising to creating content for search engines or social networks. Specific opportunities for dog groomers including leaving material at local vets, dog daycare or boarding kennels, or popular parks and pet shops.
To build up your portfolio beyond family and friends, you could offer services to local rescue centres and shelters, and make sure you get pictures or video wherever possible to share on your website or social media.
And encouraging recommendations and reviews online, and in your local community, can provide a strong source of new potential clients. Look for local dog walking groups, or consider starting your own, along with more general community networks.
It's also possible to combine grooming with related services, such as dog walking, or pet sitting, to generate more income.
More resources and support to become a freelance dog groomer
Researching other freelance careers? Why not check out our other guides:
And you can get support and help if you're starting out with self-employment, or still in the early stages of building your career, with the IPSE Incubator. The 12-month programme is currently free with IPSE membership. It includes advice, events, webinars, networking and more, tailored to anyone just beginning their freelance business.