If you enjoy making connections, helping people, and the freedom of being self-employed, find out how to become a freelance recruiter. We've previously looked at how you can get started as a coach to work with people long-term, but recruitment is a potentially lucrative way to utilise your contacts and address book.
You'll need a combination of academic qualifications and practical experience to persuade businesses to trust you with their hiring process. But it can give you a large degree of flexibility in when and how you work, and could provide a big financial reward. Along with the professional pride you'll have in matching the right candidates and job opportunities.
What does a freelance recruiter do?
As an independent recruitment consultant, you'll be helping clients through any stage of the hiring process.
This can start with HR services during the pre-recruitment phase. Tasks can include helping to create the right job description and a profile of the ideal candidate. Or you may be asked to set out the entire recruitment strategy.
You might also need to benchmark the role by researching and explaining the typical salary and benefit expectations, and other requirements for the role to be competitive.
Sourcing a pool of applications from candidates will involve following the strategy set out by posting job advertisements, sharing the role with appropriate people and on social media, alerting existing contacts, and potentially headhunting employees of other companies by ensuring they know about the opportunity.
But that's not the end of your responsibilities as a freelance recruiter. You'll need to sort through all the applications received, and organise interviews with the candidates, to provide your client with a shortlist of the most suitable people. And you might also be involved when your clients are organising and conducting interviews.
The final stages can involve supporting the successful job applicant during the first few months in their new role, and maintaining your connection for the future. Most freelance recruiters will also offer a replacement guarantee to repeat the process if the candidate leaves within a predefined period.
You may be working entirely remotely, particularly as the nature of work is changing, but it's common to spend at least some time at client offices. And your exact daily routine will depend on the type of recruitment you're undertaking – if you're filling entry-level roles, it's going to be different than when you're headhunting executives for management positions.
The one constant is that it's likely to be fast-paced as you'll need a good turnover of clients, job roles and candidates to succeed. And you might literally change someone's life by helping them find a new job, especially if it brings a pay rise or other benefits that they might badly need.
What skills and qualifications do recruiters need?
The most obvious requirements for any freelance recruiter to be successful will be social skills and a high level of patience and determination. A talent for sales will also be extremely helpful as you need to convince businesses to take you on, candidates to want to apply for a role, and clients to appreciate your shortlist or suggestion for the right hire.
Organisation and time management are vital as you'll generally be working to tight deadlines, especially as a freelance resource. And whether you use software or paperwork to maintain your contacts, a good memory is incredibly useful.
Before you become a freelance recruiter, it's typical to spend time working for an existing recruitment agency or business to build up your practical experience and knowledge. There are no specific qualifications required for recruitment, but the minimum is usually at least GCSE-level education and good numeracy and literacy.
Many recruitment firms will require A-Levels or a university degree to hire and train consultants. For example, the REED Graduate Training Scheme needs a 2.1 degree at minimum. But if you're coming from a work background, then it doesn't have to be a previous HR role. Experience in sales, administration or office work is useful.
If you're looking at qualifications or certification as a recruiter, check whether it's recognised by the relevant professional bodies, such as The British Institute of Recruiters, and The Recruitment & Employment Confederation.
How much can you earn as a freelance recruiter?
Self-employed recruitment consultants may work on a monthly retainer, or a commission basis. So, your income will often depend on the level of jobs you're recruiting for. A global search for the right CEO to head a multi-national company will have a much higher commission than finding the right part-time customer service operative.
The typical commission for a freelance recruiter is between 15% and 25% of the annual salary for the successful candidate.
But it will take a lot of hard work to reach the highest levels as a freelance recruiter. The average annual income calculated by Glassdoor is £31,644, while Talent.com puts it at £37,499. This is higher than the rate for an employed recruitment consultant, which started at around £15,000 for a trainee, and averages at £24,182 (Indeed), £27,000 (Totaljobs) or £29,971 (Reed).
The fact that independent freelancers report higher wages on average is down to the fact that recruiters will usually become self-employed only after building their experience and career working for someone else. So, you're not likely to get many freelancer recruiters starting out from scratch, unlike some other self-employed careers.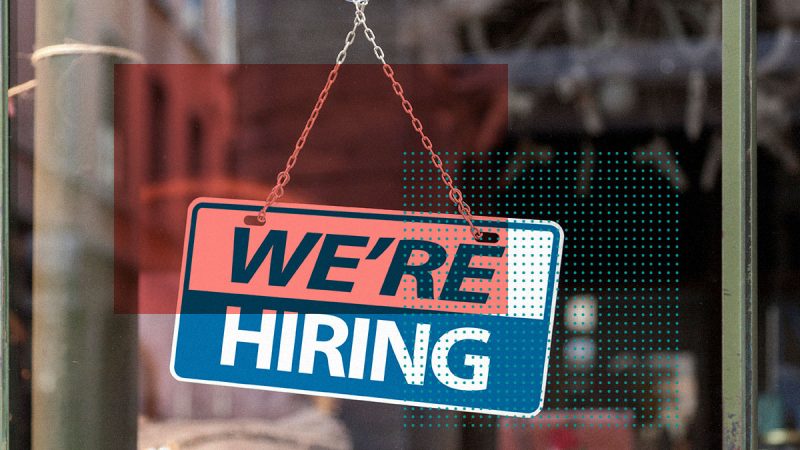 How to find clients and be successful as a freelance recruiter
The most important part of becoming a successful freelance recruiter is finding clients with roles that need applicants. And even if you've previously worked at an agency, it's likely your contract included a non-compete clause to prevent you taking those businesses with you.
If you've built up a good social media presence, then that can be a useful tool when you start freelancing. With a strong reputation, announcing that you're now freelance could be enough to secure your first clients. As starting points, both LinkedIn and Twitter are obvious choices, but you should also look at Facebook Groups for relevant communities.
It's also possible to get attention by offering advice and insight into the recruitment process, and sharing this on your own website, or publishing platforms such as Medium. If writing doesn't come easily, then look at podcasting as a presenter or guest. Or try creating videos for Youtube, Instagram or TikTok. It's up to you to find the right platform which is comfortable for you to use, and has the best reach for the niche you've chosen to focus on.
Alternatively, you can look at online job boards to see which companies are hiring, and then pitch your services. Try and find examples which you know are uncompetitive, or you could easily improve.
It can be tempting to take any work which comes your way, but it's typically easier to build a successful freelance recruitment career by concentrating on a particular niche. That could be specialising in an industry sector (especially one you have knowledge or contacts in), or in a specific type of role (it makes more sense for a former marketer to recruit marketing professionals, for example).
Finding a big enough pool of candidates should generally be easier, especially if you've built up a relevant following on social media for your niche. By combining your contacts and those you're building up online, it should be relatively easy to find suitable applicants.
Finally, it's important to keep all of your paperwork and records up to date. This includes managing your contacts (a Customer Relationship Manager (CRM) system can be very useful for this), contracts and invoices. You'll also need to be aware when you might fall under IR35 tax laws. Fortunately IPSE has a range of guides to IR35, freelance finances and more.
More support and resources for freelance recruiters
Researching other freelance careers? Why not check out our other guides:
And you can get support and help if you're starting out with self-employment, or still in the early stages of building your career, with the IPSE Incubator. The 12-month programme is currently free with IPSE membership, and includes advice, events, webinars, networking and more, tailored to anyone just beginning their freelance business.