Want to help other businesses succeed, and build a self-employed career in an in-demand field? Find out how to become a freelance digital marketer, and you could work with anyone from small local businesses to global brands.
You can choose to offer general marketing support, or specialise in one area, including SEO or content creation. Or add it to your existing freelance business as a writer, web designer or WordPress developer. Just make sure that you understand what's really involved before taking on your first clients.
Freelance digital marketing means you'll support companies in promoting their products and services online. And that means a huge pool of businesses around the world who could be potential clients if you're successful, and the ability to choose which projects you prefer to work on.
Proven skills and results will help you to secure client work, but it's possible to become successful as a freelance digital marketer if you're entirely self-taught. The amount of free and paid information and resources available online, and the ability to create your own projects to demonstrate your skills (and potentially earn from them at the same time) means you don't have to wait to get started.
What are the main types of freelance digital marketer?
It's possible to be a general freelance digital marketer, and attempt to cover everything for a client. This is more achievable if you're working with small businesses, or offering consulting services, but you'll find larger companies will want to bring in specialists to operate under their existing marketing managers.
Every area of digital marketing will require a mixture of creativity, strategic thinking and analytical skills. But the amount of time you'll spend on creative thinking may be much higher if you're working in social media, compared to analysing spreadsheets full of data and technical information as an SEO, for example.
New types of freelance digital marketing are appearing all the time, but some of the main areas of specialisation include;
Search Engine Optimisation (SEO): 

Helping businesses be more successful on the results page if people search for relevant words on Google, Bing and other search engines. We've created a dedicated guide on how to become an SEO consultant.
Pay-Per-Click (PPC) Search Advertising: 

The lines between advertising and marketing are increasingly blurred if you're working online. PPC search ads appear around the search engine results, and in other prominent locations, and specialists will often be seen as marketers promoting a business.
Search Engine Marketing (SEM):  

The catch-all term for everything search-related, including SEO, and PPC.
Social Media Marketing: 

Promoting businesses on existing and new social networks, whether that's Facebook, Twitter, Pinterest, TikTok or the next big thing to launch. Again, this can include naturally posting on those platforms, or also involve managing advertising campaigns.
Email Marketing: 

Email newsletters are still some of the most effective ways to convert sales, and require a specific set of skills to get the best results. It involves optimising the content, subject lines, design and deliverability to achieve the desired business objectives.
Content Marketing: 

We've covered how to become a freelance writer, author, or content creator. With content marketing, you'll be working on the strategy, creation and distribution to achieve the aims of the business, whether that's visiting their website, signing up for email newsletters, or buying products or services.
Influencer or Affiliate Marketing: 

Both of these areas involve working with third parties who have existing audiences, and encouraging them to promote the products or services of you clients. That can be by paying a popular social media celebrity (influencer marketing), or by setting up a commission on sales from their activity (affiliate marketing).
Video Marketing: 

The huge audience available via video platforms such as Youtube and TikTok, along with the popularity of video content on Facebook and other networks mean that a number of marketers specialise in the strategy, optimisation and distribution of video.
Viral Marketing: 

Is it possible to consistently create content which will 'go viral' and be shared widely across the internet? Whether it's videos, memes or other easily-shareable ideas, that's what viral marketing entails.
Analytics and Attribution: 

Any marketer needs to be able to report on the results of their work, but there's a growing need for specialists to manage the analytics and attribution models for every area of marketing. Specialisms including conversion rate optimisation (CRO) could also fall into their area of marketing.
What skills and qualifications do freelance digital marketers need?
There are no specific skills or qualifications required if you want to become a freelance digital marketer. But being able to demonstrate your skills through certification, experience and results will definitely help you secure more clients, and justify higher day rates.
Academic courses include Degree and Masters level Digital Marketing courses at universities in the UK, or the equivalent in more traditional Marketing. But other subjects will also be relevant, depending on your specific areas of work. Many marketers come from a Humanities background, or may have studied Art, Psychology or other areas which can still feed into their work.
When it comes to courses and certification, the safest places to start will be with the official training offered by companies including Google, or trade bodies including The Chartered Institute or Marketing, the British Interactive Media Association,  or similarly established organisations. These are likely to be the most widely recognised and respected. And learning how to make better use of the tools offered by Google, Bing and others will help you on a daily basis.
In specific areas of digital marketing, you'll find training and certification offered by a range of companies on their products, or the industry as a whole. For example, there are free and paid training courses offered by Moz, SEMRush, Ahrefs, Hubspot and many more. It makes sense to invest in learning with a company whose tools you're already using, but check if it's likely to be recognised and respected before investing any significant amount of money in exams or certificates.
Some well-known agencies and individuals also offer training courses in digital marketing, and you can find an endless number listed online. It's even more important to do some background checks before paying anything in these cases, as the quality and value will vary immensely.
Before spending any money, it's worth starting with the free information available online. Check it's from reputable sources, but search engines, social networks, and marketing tools all typically provide plenty of good advice on getting the most from their products and services. Industry websites and blogs can also be hugely valuable, but check the provenance of any tips before following them.
As a freelancer, you'll also need to be motivated and proactive to ensure you're building client relationships, meeting deadlines, managing your finances, and delivering results with your work. It's particularly important to provide regular updates and reports to clients, especially if a lot of your tasks aren't necessarily visible on a website, or take time to have an impact.
You may be required to provide strategy and planning documents, presentations, training and more, so you may need some design skills, or to invest in a template or professional help to make everything look great. Some marketers will work entirely remotely by email, while others prefer visiting clients onsite, and in the latter case you'll need to be at ease dealing with people and speaking in front of small, or even quite large groups.
The most important attributes for any freelance digital marketer are to be curious and dedicated about new trends and development, solving problems, and testing ideas. The online world is constantly changing, and the best practice for a client 12 months ago might be completely different from what will work best right now.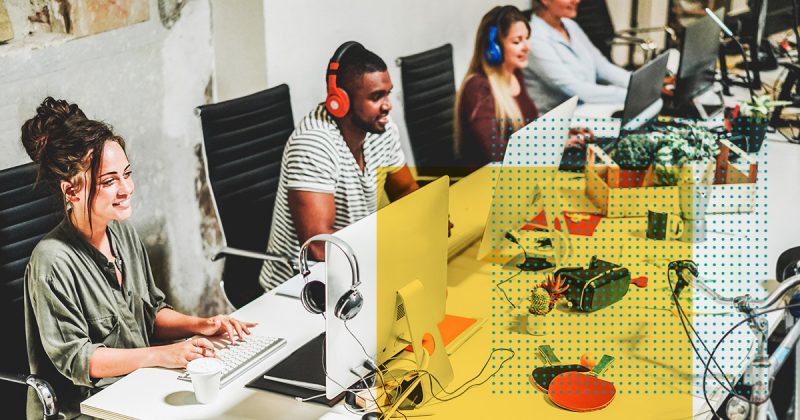 How much can freelance digital marketers earn?
As a freelancer, your income will vary depending on your skills and experience, location, any specialist knowledge, and the clients you are able to secure, along with your negotiation skills. So, any figures offered are a rough guide to what might be possible, but you can earn much more or less depending on your circumstances.
Including employed digital marketers, the average UK salary is estimated at £26,504 (Indeed), or £37,500 (Totaljobs) but freelance marketing consultants average £46,503 (Glassdoor). An SEO Consultant could bring in around £33,040 per year (Indeed), around the same as a PPC Specialist at £32,275 (Indeed), or a Social Media Specialist on £26,867 (Indeed).
A lot will depend on the clients you're able to attract, or want to work with. Specialising in outsourced tasks for small businesses will mean you need a much higher volume to achieve the same income, compared to consulting at a high level for one large corporation.
How you set up your rates and invoicing will also play a big part in how profitable your freelancing work will be. You might sell your services on an hourly or daily rate, or choose to bill on a per-project basis, depending on the type of marketing tasks you're providing. If you're selling a set package of marketing services, then a fixed price can make sense, particularly if it's a recurring monthly payment.
How to find your first marketing clients
Once you've become established as a freelance digital marketer, it will hopefully be relatively easy to bring in a consistent stream of new clients as needed. But it can be much harder when you're starting out and trying to find your first marketing clients.
If you've previously been employed, whether in marketing or other roles, try reaching out to previous bosses and colleagues to see if they need help, or might know someone who does. And make sure you let family and friends know when you're looking for work. It's more common than ever to discover people in your existing network who are launching a small business and may want some marketing support.
You might also find some initial leads for work through online job boards, or by simply putting up a website offering your services. But with the large number of agencies and individuals offering digital marketing online, it's going to be hard to stand out. If you already have experience in a particular industry or niche, focusing on that area can help a client choose you over other providers.
One route which you can put into practice straight away is to make yourself the first client for your business. This can mean practising your marketing skills by promoting your services, or developing websites and online businesses for yourself as a way to prove your ability. Not only will this mean a source of case studies and results which you're able to share publicly, but it can also develop into a valuable source of additional income. Many freelance digital marketers operate side projects to test new ideas, earn extra money, and to potentially move away from client work to their own self-employed business in the future.
Be wary about any opportunities to work for free in exchange for exposure, or profit-sharing with a new business. Sometimes these options can work well, but often you'll find yourself working for little or no reward. And make sure you have a solid legal agreement for any work, even if it's for family or friends. You can find more advice and helpful templates via the IPSE website.
Networking at local events, industry conferences or online will help you find clients, fellow freelancers to offer referrals and advice, and build your own reputation. Being helpful in groups like Creative Freelancers UK will help you get to know other self-employed people in complementary professions, such as web design. Many designers and agencies will claim to offer marketing services, but might not have the resources or skills in-house, and will white-label the work of other freelancers.
More established freelance marketers will also be looking to potentially bring in extra help if they're already at capacity. And this can be a great way to learn from a more experienced self-employed professional, whilst also getting paid.
Always try to ensure any clients provide reviews, testimonials and material for case studies wherever possible. Most businesses won't want their confidential information published on the web, but you could agree to refer to them by their industry sector, and remove any identifying information, for example.
More resources and support to become a freelance digital marketer
Researching other freelance careers? Why not check out our other guides:
And you can get support and help if you're starting out with self-employment, or still in the early stages of building your career, with the IPSE Incubator. The 12-month programme is currently free with IPSE membership, and includes advice, events, webinars, networking and more, tailored to anyone just beginning their freelance business.